"It's Terrible": Simona Halep Reveals the Toughest Moment in Her Career
Published 12/02/2020, 8:00 AM EST
---
---
World Number 2 Simona Halep has revealed the toughest moment of her career. Opening up in a documentary shoot which she shared on Twitter, Halep said her darkest memory on Tour was when she had to concede a match owing to an injury.
ADVERTISEMENT
Article continues below this ad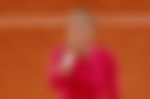 When Simona Halep had to yield to pain
ADVERTISEMENT
Article continues below this ad
"The toughest moment in my career was when I had to forfeit a match because of pain," recalled the Romanian tennis star. She said it was tough for her to pull out of a match she believed she could win. "I would rather not go out on the court than go there and then stop," Halep said.
"You can't take it, so you stop": Simona Halep
The two-time Grand Slam winner said she had to eventually yield due to the fear of aggravating her injury and pull out of the contest.
"You can go in with a pain level of two and have it go straight to eight after a few games, within a fraction of a second. You can no longer control it, can't take it, so you stop," Halep said, reasoning why she quit mid-match.
She said as much as she had to listen to her body, she was gutted to forfeit the match. "It's frustrating. It's terrible," she recalled. 
Tennis is a demanding sport, says Halep
On her road to recovery, Halep said it wasn't easy returning to her peak after a spell on the sidelines with an injury. "That moment when you have to return to the highest level is very tough. It's a demanding sport," Halep said.
Reflecting on the injury pitfalls in tennis, she said that players often risk doing damage to their spines with nifty turns and maneuvers on court. "The turns we have to take in tennis are highly risky for the spine, because you cannot control the speed at which you turn, or the way you stretch out to reach a ball," Halep said.
Simona Halep had a herniated disc at 17
Sharing her injury woes, the Romanian said she had her first back trouble at 17. "I had my first back issue at seventeen and they told me I was the youngest patient with a herniated disc. I have about four hernias, they're not easy to manage," Halep said.
Halep said she takes her daily fitness routine very seriously and hasn't missed her workouts since 2008. "I've been exercising daily since 2008. I had to strengthen the muscles adjacent to my spine really well, so that they keep my discs aligned," Halep shared.
Read More: Career-Best Performance: Simona Halep Ends 2020 Season With an Incredible Stat
The Romanian, who twice reached World Number 1 in WTA rankings between 2017 and 2019, produced incredible tennis to finish way ahead of peers in season 2020 in terms of individual skills and performances.
ADVERTISEMENT
Article continues below this ad
She had the best return game win percentage this WTA season. In 26 matches that she featured in this calendar, Halep won a staggering 51.4% of return games.
With the French Open and Wimbledon titles to her credit already, Halep would have an eye out for more Major glory as she returns in the new season.
ADVERTISEMENT
Article continues below this ad