"My Girl": Naomi Osaka, Novak Djokovic, and Others Congratulate Iga Swiatek After French Open 2020 Victory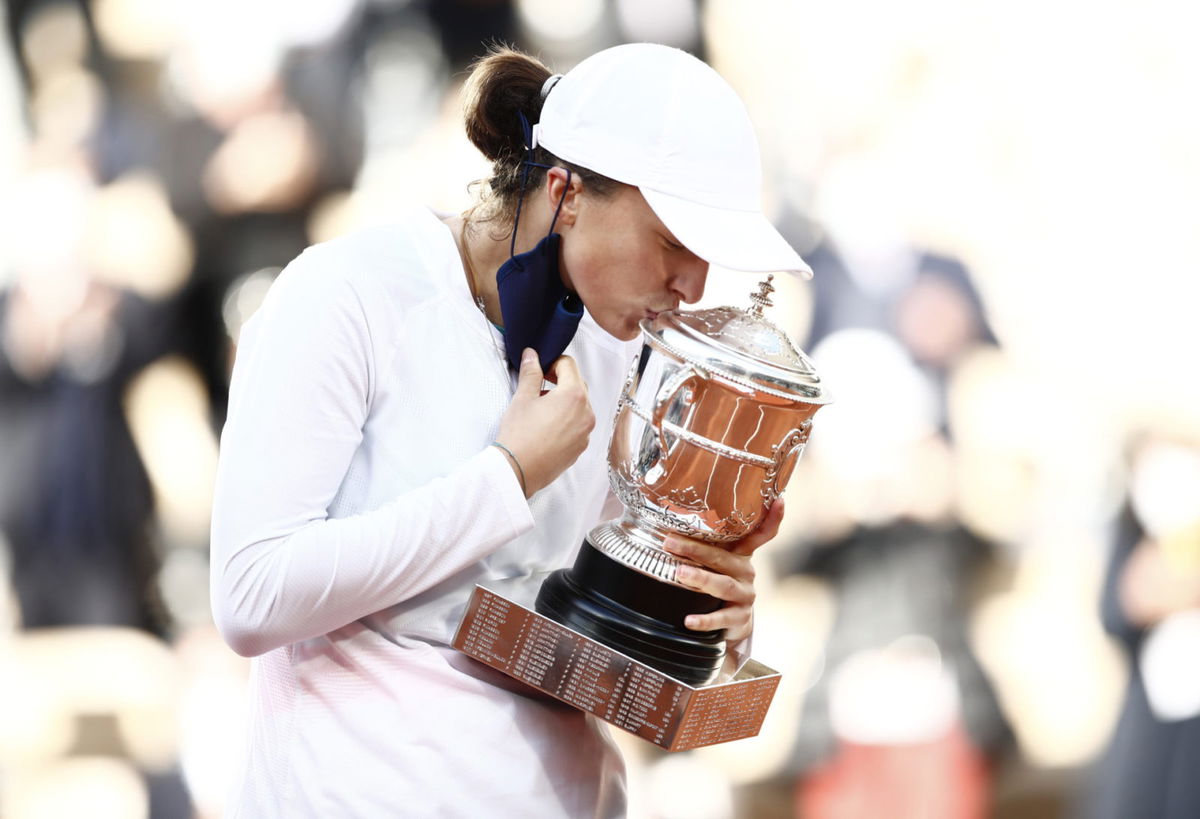 Iga Swiatek is the 2020 French Open champion! The 19-year-old has been sensational right from the first round and has deservingly gone all the way. She took on 2020 Australian Open champion Sofia Kenin in the final and made easy work of her. Her Roland Garros title looks like it is the first of many more to come!
Iga Swiatek is the first Polish tennis player to win a Major. During the course of her historic run, the teenager never dropped a set. This is a commanding feat, if one looks back at the quality of opponents she had to get past to claim the crown.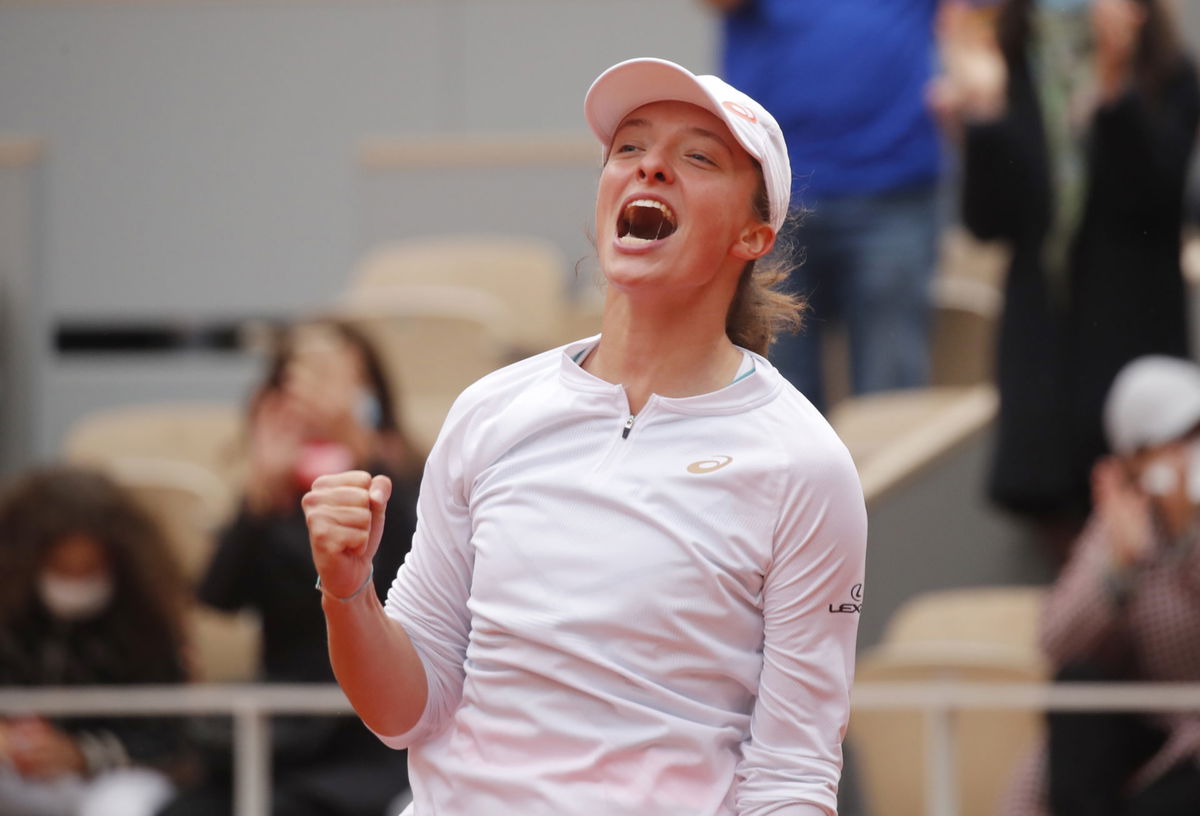 Iga Swiatek outplayed the likes of Eugenie Bouchard, #1 seed Simona Halep, and finally Sofia Kenin to get to where she is now. It is incredible to witness a 19-year-old win the title, and moreover, Swiatek is the first player born after 2001 to reach a Slam final.
Swiatek has amassed plenty of accomplishments en route her French Open victory. It has been a historic tournament for her, and she has ended it in a grand manner. She triumphed over Kenin 6-4, 6-1 in the final to go off in jubilation and celebrate with her team!
Grand Slam champion hugs 🤗@iga_swiatek #RolandGarros pic.twitter.com/Rc2hnsNTch

— Roland-Garros (@rolandgarros) October 10, 2020
But the celebrations didn't end there. Twitter went crazy too! 
Wishes pour in for Iga Swiatek on her maiden Grand Slam title
Three-time Grand Slam champion Naomi Osaka was probably the first person to wish Swiatek on her amazing victory. Osaka was shedding happy tears while she posted a twitter update on the Polish star's victory. 
AHHHHHHHHHHHH!!!! 🥳😭❤️❤️❤️

— NaomiOsaka大坂なおみ (@naomiosaka) October 10, 2020
The 22-year-old then took to Instagram to mention the pride she takes in watching this terrific match between two promising WTA stars!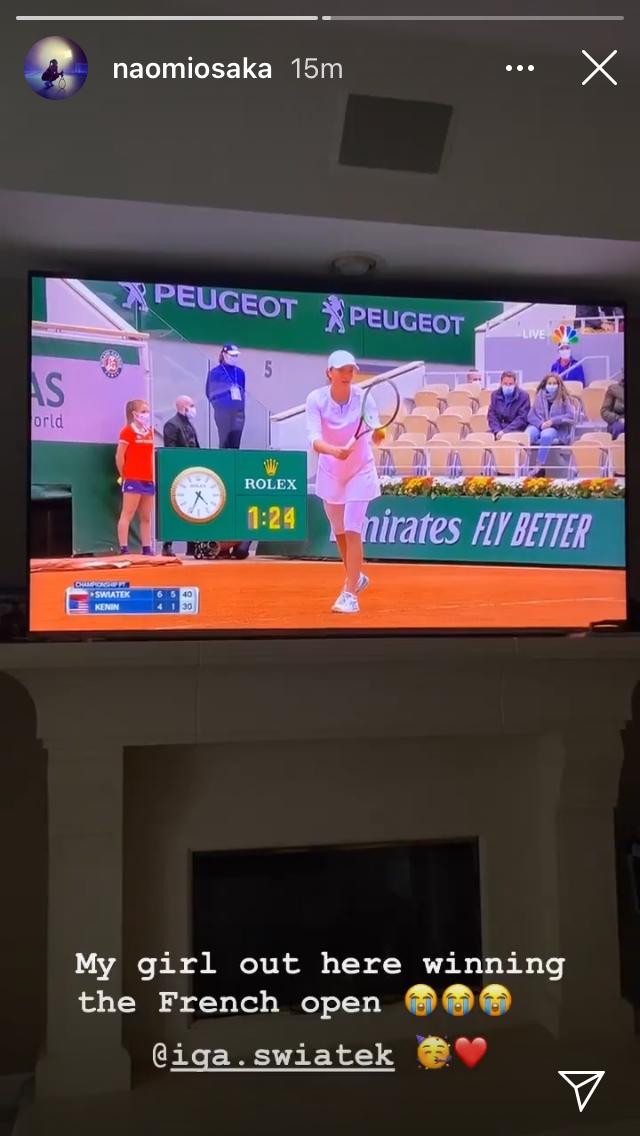 The people at 'The Tennis Podcast' posted a super happy picture of Swiatek and Osaka to remind fans about their strong bond. They collaged it with both athletes posing with their respective trophies to assert their accomplishment in the WTA circuit.
— The Tennis Podcast (@TennisPodcast) October 10, 2020
Wishes came flying in from all around the world for Iga Swiatek. American teenage sensation Caty McNally put forth her wishes for Swiatek through a tweet. 
IGA!!!!!🥳🥳🥳🥳🥳🥳🥳🥳 @iga_swiatek so proud of you🥰🙌🏼

— Caty McNally (@CatyMcNally) October 10, 2020
Novak Djokovic and more
Novak Djokovic, who is into the finals in the men's singles event, sent in his congratulatory message to the Polish superstar too. Besides Djokovic, 7x Roland Garros champ Chris Evert also posted a tweet wishing Swiatek for her commanding victory. Evert is a true legend on clay, and she feels there are many more RG titles beckoning for Swiatek!
Congratulations @iga_swiatek 🎉 #RolandGarros

— Novak Djokovic (@DjokerNole) October 10, 2020
Congratulations @iga_swiatek What a sterling two weeks of brilliant tennis. Many, many more GS Titles to come. @SofiaKenin hold your head up high; you had a great year! 👏

— Chris Evert (@ChrissieEvert) October 10, 2020
Rafael Nadal's academy from Spain posted a heartwarming message for Iga Swiatek on her victory. She had trained there as a junior player and now watching Swiatek win a Major title has them celebrating in joy!
Two years ago we enjoyed watching you train at the #RafaNadalAcademy as a Junior player. Today we are happy to see you win #RolandGarros ‼️Amazing‼️ Congratulations @iga_swiatek! 👏🏻👏🏻👏🏻 pic.twitter.com/iGjqpIw5gg

— Rafa Nadal Academy by Movistar (@rnadalacademy) October 10, 2020
Swiatek's compatriot Agnieszka Radwanska delivered her wishes to Swiatek by posting a picture of the Polish star celebrating her victory.
Woowww!! Gratulacjeee🤩🎾 🏆 @iga_swiatek @rolandgarros pic.twitter.com/NShQKXOJtd

— Aga Radwanska (@ARadwanska) October 10, 2020
Furthermore, the legendary Billie Jean King sent in her wishes for Swiatek on an "incredible achievement." 
Congratulations to @iga_swiatek on an incredible achievement!

She's the 2020 #RolandGarros Women's Singles Champion! https://t.co/l6MOykBpMI

— Billie Jean King (@BillieJeanKing) October 10, 2020
Messages came flying in, and this time Kim Clijsters took time to wish the young Polish champion on her commanding victory. "Loved watching you play and be fearless," four-time Grand Slam champion Clijsters wrote. 
@iga_swiatek ooooh , what an amazing effort ! Loved watching you play and be fearless .💪🏻 Congrats on your first !

— Kim Clijsters (@Clijsterskim) October 10, 2020
Frenchwoman Alize Cornet could not get past the second round in her home tournament. However, she graciously wished her tour rival Iga Swiatek by adding a barrage of emojis to render her compliments.
Congrats champ' 😃😃😃🔥👏👏👏 @iga_swiatek #RGchampion #whataweek 😱

— Alize Cornet (@alizecornet) October 10, 2020