'No One Fell for It'- 41-Year-Old Serena Williams Left Red-Faced After a Childish Prank With Daughter Olympia Goes Wrong
Published 01/14/2023, 2:27 PM EST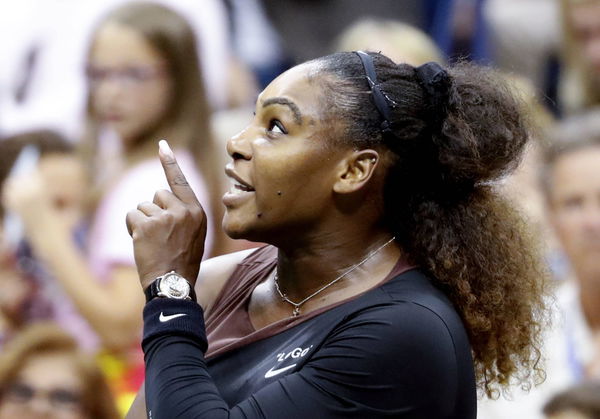 The former world no.1 and probably the best women's tennis player in the open era has her childlike humor intact. Yes, we're talking about Serena Williams. Now that the tennis legend has called it quits, fans are getting a full picture of her personality off-court. Serena has been very active on social media ever since she announced her retirement. She mostly posts pictures and videos of enjoying herself with her picture-perfect family.
Recently, Williams has taken TikTok by storm with her funny antics. A few hours ago, Serena posted a video where she is trying to prank her family. She builds up the tension in the audience waiting for her husband and daughter to realize that they're being pranked. Fans laughed their heads off as the 23-time Grand Slam winner pulled a childish prank on her family. In what seems like a regular event at the house, Williams' husband and daughter were both unfazed by her actions.
ADVERTISEMENT
Article continues below this ad
Serena Williams shares her funny side
In this 38-second video, Serena talks to her audience while consorting to a devilishly humorous prank. She has put hyper-realistic cockroaches all around the house to startle Ohanian and Olympia.
She says, "So I've been placing fake cockroaches around the house. It's so funny. Let's see what happens."
She opens up what looks like a kitchen drawer to show her fake cockroach inside it. She has also stuck one of them behind Olympia's chair while the toddler sits busy on screen. While Olympia remains oblivious to the whole prank and brushes it off without a reaction, Alexis Ohanian is distracted for a moment. He is startled by a fake cockroach on the dinner table and for a moment thinks that it is real.
He shares Serena's humor but it does not seem like he is scared for real. Williams' had her husband but like for just a moment.
ADVERTISEMENT
Article continues below this ad
Throughout the video, Olympia is busy playing on her iPad and is not really bothered about her mother trying to scare her. Serena ends the video on a cute disappointing note, "So…I need a better prank. 'Cause no one fell for it."
Williams is literally owning the TikTok feed
A few days earlier, Serena filmed another funny video and posted it on TikTok. The tennis superstar was seen performing her childish antics in front of the family, again. Only this time the victim was her sister Venus.
ADVERTISEMENT
Article continues below this ad
Serena confesses in the video about a problem she might have- stealing from her sister. She says that she has always stolen things from her sister's house. While Venus Williams knows nothing about it, Serena proved her point by trying on some lipstick that she stole from Venus in the video. From the looks of it, life off-court is going swimmingly for Serena. She is spending so much time with the people she loves the most and what's more, she can also focus on her business ventures in the meanwhile.
WATCH THIS STORY –  Hilarious Meaning of Roger Federer, Rafael Nadal, Novak Djokovic, and Serena Williams on Urban Dictionary!