'No Winning Situation Here' – Martina Navratilova Bluntly Questions the 'Iffy Decision' of the Tours to Strip Wimbledon off Ranking Points
Published 05/27/2022, 9:43 AM EDT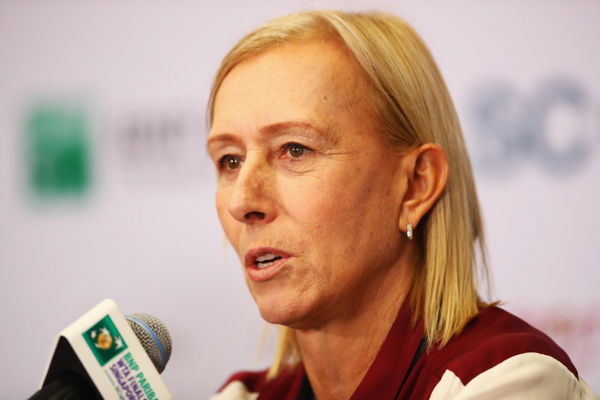 A month ago, Wimbledon's organizers made an announcement considering the ongoing conflict between Russia and Ukraine that garnered mixed reactions. The regulatory body of the Championship decided to not act host to Russian and Belarusian players for this year's event. However, the decision made in good faith backfired. It suffered a great deal of backlash from tennis fans.
Further, many tennis entities also denounced the ban. From top players such as Djokovic to veterans such as Martina Navratilova, a huge chunk of players raised their voices. Recently, Martina sat down for an interview and justified her side, and explained why banning wasn't the right thing to do. And also advocated that ATP's response to the ban was also not correct.
ADVERTISEMENT
Article continues below this ad
Martina Navratilova shares her views on the Wimbledon ban
While in an interview with Piers Morgan, the former World no.1 said, "I understand so much where the players and people in Ukraine are coming from. A hundred percent I can so relate to that. I was thinking there's a big difference between team events and any individual events. And also you have Russian and belarusian players on team sports. For example, Alex Ovechkin playing in for the Washington capitals in NHL not a peep out of anybody that he should not be playing for that team."
Further, she added, "So you have a player like Rublev who has disowned the war. He had written on the camera no to war, yet he can't play. There is no winning situation here. Bad situation with one that on making this rule and now another kind of iffy decision of not giving the points."
Navratilova's major rival
ADVERTISEMENT
Article continues below this ad
The Czechoslovakian's greatest rival was the American tennis ace Chris Evert. Their rivalry was the main attraction of women's tennis in 80s. Though they share some notable achievements. Such as both of them have held the ranking of World No.1 for a record period. In addition, their scores in terms of Grand Slam victories are also tied. Astonisingly, both Chris and Martina have won 18 Grand slams under their name.
However, the head-to-head results favor Navratilova. As she has a lead of 43-37, which will never be amended. Further, Navratilova faced the American in 14 Grand Slam finals, out of which she came out victorious in 10.
ADVERTISEMENT
Article continues below this ad
Watch this story: Elon Musk vs Serena Williams net worth comparison
Evert was good on clay and hard courts while Navratilova's game shined in grass and indoor carpet. Also, Evert was a powerful baseliner, and Martina rested her game upon her ultimate serve-and-volleys.
Edited By: Ajinkya Aswale