"Play With a Lot of Pain": Carla Suarez Navarro Says Tennis Struggles Aided Her Battle Against Cancer
Published 12/27/2020, 12:19 PM EST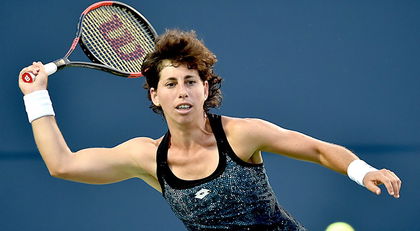 ---
---
Former Spanish tennis star Carla Suarez Navarro has opened up on how tennis helped her battle cancer.
ADVERTISEMENT
Article continues below this ad
Navarro, who reached a career-high ranking of Number 6 on February 29, 2016, announced her retirement from tennis earlier this year and soon followed it up with the shattering piece of news that she had been diagnosed with cancer.
As messages of support and sympathy poured from peers and from the tennis world, Suarez went into an extended and exhaustive phase of treatment.
ADVERTISEMENT
Article continues below this ad
However, she recently shared a video of herself on social media, playing a game of tennis. It gave hope to her fans as well as tennis friends that she was on the road to recovery.
Now, in an interview to a Spanish publication, Navarro has sprung more good news on the health front, saying that her recovery has, indeed, gone well and she hopes to be cancer-free in a month or so.
Asked if being a professional athlete help in her cancer battle, Navarro said, "They talk to you about the side effects, the pain you can have, and then it does help to be a tennis player, because there are moments in your career when you have had to suffer, play with a lot of pain, enduring it.
When I felt pain at home it was like something already more familiar, that I knew."
On whether she feared the worst after her diagnosis, the Spaniard said, "Honestly no. At first we didn't really know what it was, I had tests done on everything. In one of the visits to the doctor he told me all the possibilities. It put me on notice."
"Maybe seven days passed until they gave me the news, and it was no longer such a surprise. I wasn't scared because they told me that it was very curable, that they had caught it in time," she added.
Navarro said her doctors gave her the belief that she could win this battle. "They gave me so much hope and so much faith that I never feared," she said.
The Spaniard revealed that she did feel upset that the disease cut her career short. "I thought, what a shame right at this moment. After fifteen years dedicating yourself to tennis, not being able to finish,"  Navarro said.
ADVERTISEMENT
Article continues below this ad
"Now I feel very good, but then I didn't know if in 2021 I could play again or not. If the door was closed, saying goodbye like that wouldn't be me. It wasn't what I wanted," said the former French Open quarter-finalist.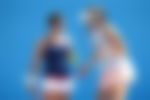 Navarro ended her career with two WTA Tour and six ITF Futures titles.
ADVERTISEMENT
Article continues below this ad
(All quotes have been translated)