'Put It in Her Mouth' – Chris Evert Once Narrated a Time Where She 'Fell Over With Laughter' Owing to Martina Navratilova's Innocent Act After a Brutal Loss
Published 08/10/2022, 12:21 AM EDT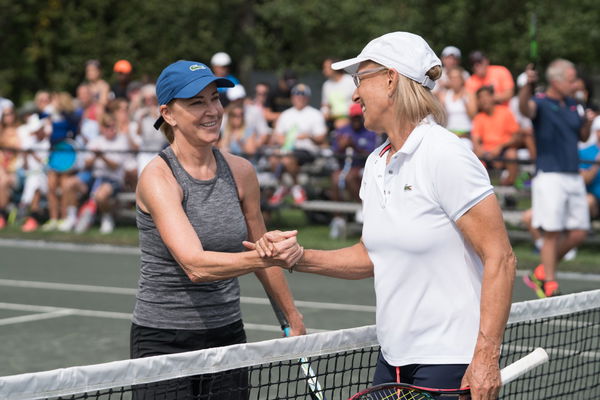 Legendary tennis players, Chris Evert and Martina Navratilova, had one of the best tennis rivalries. Apart from playing against each other, they also played doubles as a pair on plenty of occasions. Moreover, both players shared a really great friendship off the tennis court, which has continued to this day.
ADVERTISEMENT
Article continues below this ad
In her autobiography, the former American tennis player, Evert, talked about one incident which had her laughing hilariously.
ADVERTISEMENT
Article continues below this ad
Chris Evert talked about an amusing incident involving Martina Navratilova
In her autobiography, 'Chrissie: My Own Story' Evert talked about a story about the former French player, Françoise Durr (AKA Frankie) and her dog named Topspin. During the Virginia Slims in Houston 1976, Chris Evert had to play against Martina in the final. Unfortunately, the American legend did not have any chance against Navratilova, as she lost the final in straight sets.
After a disappointing defeat, Evert had to play doubles with Navratilova against the pair of Rosie Casals and Françoise Durr. This time, the pair of Evert and Navratilova had to suffer another embarrassing loss, which made Evert really unhappy.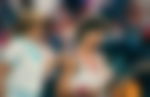 "Although we were top-seeded, Martina and I were blitzed in the first set, 6-0, and lost the second, 7-5. After the match, Frankie's dog, Topspin, sauntered out to take her racquets off the court. Instinctively, Martina grabbed my racquet, put it in her mouth and walked off behind Topspin. I fell over with laughter; Martina's spontaneity had melted my ice from earlier in the day,"
Evert wrote in her autobiography, at the age of 27, which was published in 1982.
Notably, Francoise Durr's dog Topspin often used to carry her rackets onto the court, as the dog became really popular then.
Evert and Navratilova's rivalry
Although Navratilova and Evert played doubles together, they were more famous for their on-court rivalry. For almost 15 years, they played against each other in 80 matches. Out of those 80 matches, Navratilova won 43 matches and Evert won 37 matches.
ADVERTISEMENT
Article continues below this ad
Watch This Story: Martina Navratilova unleashes her anger at United States' marijuana rules following Brittney Griner's Russian fiasco
Interestingly, Navratilova did not win many matches against Evert at the beginning. However, she found a way to beat her best friend and eventually had a better head-to-head record.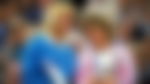 ADVERTISEMENT
Article continues below this ad
In 1973, they played their first ever match, and in 1988, they played their last match. One year later, Evert retired from professional tennis. However, Navratilova continued to play till 2006 and almost played till 50 years of age.
Is the Evert-Navratilova rivalry the best in tennis? Let us know in the comments.