QUEEN! Elena Vesnina Reaches Her 2nd Consecutive Major Final at Wimbledon Following Her Maternity Break
Published 07/10/2021, 3:56 AM EDT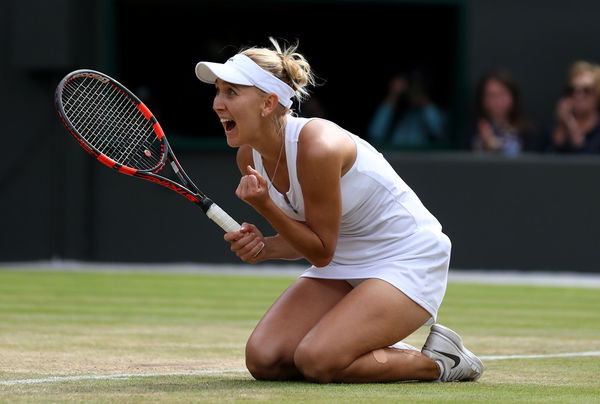 In yet another epic semi-final for the women's doubles event at the 2021 Wimbledon Championship, Russian Dynamics Elena Vesnina and Veronica Kudermetova clashed with Storm Sanders and Caroline Dolehide. Both pairs looked at their lethal best as they set off to a flying start.
The crowd witnessed a thrilling battle with perfect timing, pickpocketing spaces, and slicing drop shots from all parts of the court; the outcome to a game like this would've been possible only with one making a mistake and the other using it to their advantage.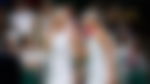 ADVERTISEMENT
Article continues below this ad
And little did the crowd know, they were about to witness one of the most memorable fightbacks in a doubles game ever.  The match ended 7-6, 3-6, 7-5 with Kudermetova reaching her first and Elena reaching her second consecutive final since her return in just four weeks.
Today will be her second appearance in a final since coming back from her maternity leave in 2018. She credits her coach for her return and wished to come back for her daughter as well. "I want to show my daughter what mom can do. She knows I'm working to start playing tennis again and She likes the idea. When she watches tennis she says, My mom plays tennis too!" she said.
Exceptional play from Elena Vesnina
The Russians were simply superb in their outing last night. Energized, agile, and fully focused, they showed character when it was needed the most. By winning the first set, they established their dominance in the game right away. However, they lost their upper hand in the second set, courtesy of a brilliant attacking display by their opponents; the game was tied going into the final set.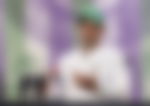 With the match slipping out of the Russians' hands, 34-year-old Elina used her experience to motivate her younger partner with a pep talk. What came after that was a true champions fightback from the pair. Three games down in the decider set, the team came back from behind to win the set 5-3 in astonishing style. Losing three sets consecutively, a place in the final seemed like an impossible dream for the Russians.
But the experienced half of the duo showed up just in time, using her mentality and physical attributes to turn the game on its course. In a rally best described as incredible, Elena Vesnina won the game for her team. It wasn't long ago that the veteran ran a riot at the Roland Garros, making it to the finals there as well.
Hence, she was riding high on confidence.
ADVERTISEMENT
Article continues below this ad
All set for the final
The women's doubles final promises a fierce battle between two teams that just don't give up. Similar to their fellow finalist, Hsieh Su-wei and Elise Mertens also made a phenomenal comeback in their game to make it to the final. Both ready to go all out, it will be interesting to see which of the two teams makes it out on the top.
ADVERTISEMENT
Article continues below this ad
Watch this story: Wimbledon Championships 2021: Roger Federer's Emotional Farewell
Regardless of the result, Vesnina's journey from motherhood to center court is worth cheering for. It will continue to inspire many as she battles it out for her first title since her return. Will she edge past her opponents or will her comeback, come back to haunt her? We'll have to wait and watch.