'She Kicked Me Out' – No Signs of Calmness as Iconic Battle of Legendary Sisters Venus and Serena Williams Takes an Astonishing Turn
Published 04/28/2023, 5:56 AM EDT
By

Follow Us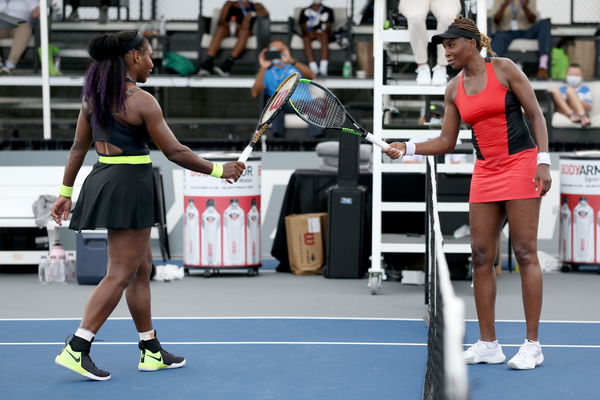 Venus and Serena Williams are both in their 40s. However, at heart, they are both still quite young. The siblings undoubtedly have a lot of love and respect for each other. However, they can't seem to bury their deep-seated sense of sibling rivalry. Over the past few days, the sisters' social media followers have been treated to some hilarious instances of it.
It was only a few days ago that Serena had accused elder sister Venus of stealing her things. It turns out that Serena's accusations didn't go down too well with Venus, and she proceeded to do something that Serena wasn't expecting.
Serena Williams' accusations force Venus' hand to take extreme step
ADVERTISEMENT
Article continues below this ad
In a TikTok video, Serena took a swipe at Venus. The video later made its way to Instagram. It was filmed in Venus' gym and in it, Serena took viewers through a brief tour of Venus' home gym.  The reason? Apparently, Venus had made some of Serena's gym stuff her own, and Serena wanted to let her social media followers know about it.
However, in the aftermath of the viral video, Venus felt forced to take the harsh step of kicking her sister out of her house. In Serena's latest Instagram story, she complains about it to her followers. "Who else thinks it's totally unfair for Venus to kick me out of her house and saying I can't use her gym. All because I just told the truth about how she took so many things" The video abruptly ends after Serena says this.
Serena also included text in the post, which stated, "@venuswilliams and you are at war she kicked me out of her house… lol I demand justice". Only time will tell if Venus lets Serena into her house again. Even if she does, she will probably keep an eye on her younger sister to ensure she doesn't take her phone out and start filming.
However, it may not be up to Venus after all. Towards the end of Serena's video, she said, "Anyway, speaking of the truth, I am going back. Obviously!"
 

View this post on Instagram

 
For the younger Williams sister, being a prankster is an old habit
ADVERTISEMENT
Article continues below this ad
Only among themselves do the sisters truly know if Venus stole Serena's gym items. However, Serena's mischievous posts shouldn't be too much of a surprise to Venus. After all, Serena's been the chief prankster in the Williams family for a long time.
The sisters' former coach, Rick Macci, once remarked how Serena and Venus had completely different personalities. On one hand, Venus was more of a straightforward individual. However, on the other hand, Serena was mischievous and would consistently pull pranks on those around her. For instance, he remembered how Serena ordered junk food during a training session, which included soft drinks, butter popcorn, and curly fries.
ADVERTISEMENT
Article continues below this ad
Will Venus respond to Serena's video?
Watch This Story: Venus Williams Takes a Look Back on the Moment Sister Serena Williams Humiliated Her on Court