Video: Coco Gauff, in a Mood to Enjoy the Off Season, Shows Off Dance Moves With Her Two Little Brothers
Published 11/20/2022, 9:15 AM EST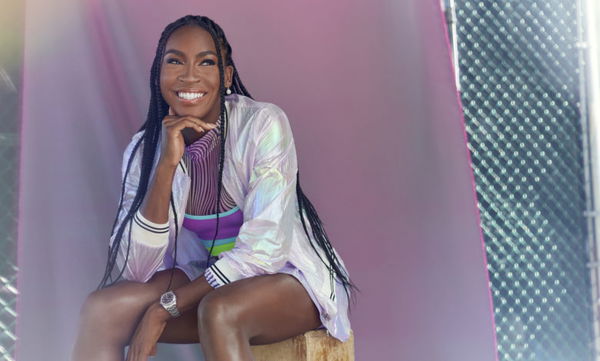 The French Open finalist, Coco Gauff, at a young age, has outshined some of the most promising and talented players on the WTA tour. The American tennis prodigy, with her incredible performance, has also reached the top 10 spots of the WTA ranking. The 18-year-old tennis star's on-court brilliance has already stunned a plethora of tennis fans. However, the range of Gauff's skills and talent extends beyond the tennis court.
ADVERTISEMENT
Article continues below this ad
Notably, the world No. 7 tennis player is also great at showcasing her dance moves. Gauff has been spotted unveiling her latent talent for dancing on various occasions. Additionally, the American tennis star was recently spotted at the airport while she showcased some of her best dance moves.
ADVERTISEMENT
Article continues below this ad
Coco Gauff showcased her dancing skills at an airport
The American tennis player has already stunned many fans with her on-court performances, especially when she reached the French Open final. However, in addition to that, a plethora of fans have been amused by witnessing Coco Gauff's dance moves on different occasions. Notably, the French Open finalist showcased some adorable dance moves, however, this time at the airport.
As a result, many fans were surprised by Gauff's dancing moves with her brothers at an airport. The world No. 7 tennis player was spotted donning a pink hoodie as she enjoyed some time with her brother during the off-season. Gauff was grooving up and dancing to the popular remix soundtrack titled, 'Bad Habit' (Jersey Club Remix) by SteezTheProducer.
ADVERTISEMENT
Article continues below this ad
The remix track is trending on the short-form video hosting platform, TikTok. Notably, Gauff also made a short video on the online platform showcasing some adorable dance moves along with her brothers.
Gauff was also spotted dancing in New York
The French Open finalist dance performance with her brothers at the airport was not the only occasion when she surprised her fans. After a hectic US Open schedule, the American tennis prodigy was spotted dancing with her brothers during a break from competitions. Many tennis fans were stunned when Gauff delivered some amazing performances during the Grand Slam event in New York.
ADVERTISEMENT
Article continues below this ad
However, in addition to that, the 18-year-old tennis amused fans during her dance performance at an exhibition in the city. Gauff posted a video of herself dancing with her brothers while they visited the Michael Jackson exhibition in New York. In an adorable and funny video, Gauff was spotted trying some famous 'Michael Jackson' moves with her little brothers.
Watch this story: Hilarious Meaning of Roger Federer, Rafael Nadal, Novak Djokovic, and Serena Williams on Urban Dictionary!