WATCH: Eugenie Bouchard's Killer Elevation on Her First Serve
Published 01/04/2021, 1:23 PM EST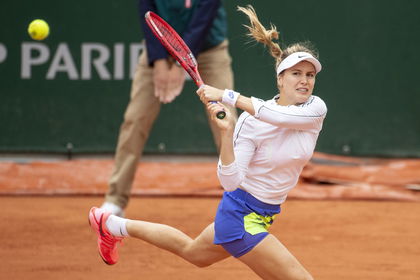 ---
---
It is a fact that the service is the most lethal weapon in the sport of tennis. If it falls accurately with the right speed, it is enough to not only win a point but an entire game. Different players adopt different styles while serving. Some prefer to stay connected to the court in order to shorten the release point while some prefer a leap to lengthen it. Former World No.5 Eugenie Bouchard falls in the second category.
ADVERTISEMENT
Article continues below this ad
There is something unique about Bouchard's first serve. She is one of those who prefer to not only leap but somewhat fly. Talking about her initial position, she keeps her almost entire weight on the front foot. This helps her to keep her contact point right above her head and not behind that.
ADVERTISEMENT
Article continues below this ad
The grip remains continental and the racket face is straight, directed towards her opponent. Then, she quickly starts to shift her weight back at the time of the ball release. Here, something peculiar takes place. At the time of release, her hitting arm (holding the racket) moves exactly opposite to that of the tossing arm to maintain the synchrony.
Eugenie Bouchard and her great elevation during the first serve
As mentioned, Bouchard is one of those who loves to elevate. The reason for this great elevation is her perfect timing.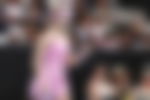 As soon as the release takes place, the hitting arm acquires a 'palm down position'. Then, she quickly brings both her legs together, bends her knees, and transfers the weight on her toes. The racket head and the tossing arm both become vertical in order to hit the ball right above her head.
ADVERTISEMENT
Article continues below this ad
When the ball starts to come down, she launches herself up in the direction of the ball. The racket head drops further down to generate power and the elbow of the hitting arm goes up facing the ball. Then, she elevates and makes the contact right above her head with the hips and shoulders square to the net.
The landing takes place on the front (left) foot and the back (right) remains perpendicular to balance her position. The racket finishes a full swing and lands across her body. All this timing and synchronization help her deliver an elevated and effective serve.
Eugenie Bouchard has definitely worked a lot on her service. She maintains her body weight, practices her release, and also works on making the contact at the right time. All these attributes, therefore, add an X-factor to her impactful serve.
ADVERTISEMENT
Article continues below this ad