'Way Too Young for Me'- 19-Year-Old Coco Gauff Blushes at the Mere Mention of Michael B. Jordan as She Makes Giant Creed 3 Confession at Indian Wells
Published 03/15/2023, 11:53 AM EDT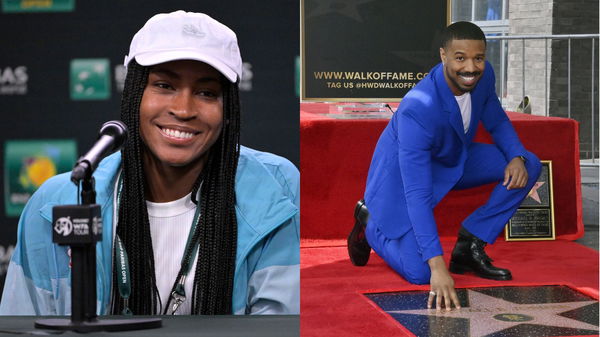 People worldwide gush over celebrities. Many actors and actresses become the sweethearts of the country. Michael B. Jordan is one such actor. The Creed actor has no shortage of people who craze over him. Even sports players get starry-eyed when it comes to Jordan. Coco Gauff is one such player. In a recent interview with 'Tennis Channel', Gauff talked about how much she loved Creed 3 and how she enjoyed seeing Jordan in the movie.
This is not the only incident in which Gauff has talked about Jordan. She has been in awe of the Californian actor for a long time. She even talked about her crush on him before the interview.
Coco Gauff is too young for Creed actor
ADVERTISEMENT
Article continues below this ad
In an exclusive with Tennis Channel, Coco Gauff talked about her game, siblings and most importantly Creed actor Michael Jordan.
They also talked about Creed 3 and Gauff even said that she has seen the movie twice. "Oh I did, I watched it twice." The interviewers and Gauff talked about the performance of Michael B. Jordan in Creed 3.
Gauff commended his acting and directing in the movie along with other things. "He did good directing that and playing it for the acting and the other reasons too," Gauff said while laughing shyly.
When she was poked about what she thought was good besides that, Gauff again replied with a shy voice. " I mean it's Michael B. Jordan. I mean, what other reasons. The guy looks so good."
Gauff was then asked if she was shooting her shot with Jordan, to which she denied fervently. "No, no, I'm way too young for him. No, I'm not shooting my shot right now."
ADVERTISEMENT
Article continues below this ad
First time Gauff talked about Jordan
This is not the only time Gauff has talked about the versatile actor. In a podcast with Kumau Murray, Gauff was asked if she fangirls about anyone. She affirmatively replied with Michael B. Jordan. This was the first time she talked about how much she admires him. She also said that she would love to meet him but unfortunately for her, he is out of her age range.
Watch this story – 'Scared' Coco Gauff Opens Up About Surreal Emotions After a Career-Defining Victory Over Venus Williams at 15 – 'Never Looked At..'
ADVERTISEMENT
Article continues below this ad
Gauff has also talked about her admiration for Jaden Smith. After her triumph over Venus Williams in the 2019 Wimbledon. She was commended by many celebrities, including Jaden Smith for her performance. Gauff felt like she was in cloud nine after the tweet. Additionally, her friends were happy for her as well.
Currently, Coco Gauff is going strong in the Indian Wells Masters. Gauff is in the quarterfinal and will face world number two Aryna Sabalenka. Can she prevail over her? Let us know in the comments.