''Who Cares About What Anyone Else Thinks?' – Coco Gauff's Awe-Inspiring Message to Youngsters After Reaching Maiden Semis at French Open 2022
Published 05/31/2022, 11:33 AM EDT
18-year-old American tennis star Coco Gauff is currently on a dream run at the French Open 2022. Today, she beat her American compatriot, Sloane Stephens, in straight sets to reach the semi-final of the French Open. Incidentally, this is her best result in any Grand Slam event.
After reaching the semi-final, Coco talked a great deal about her performance during her on-court interview. However, she also showed immense maturity, as she gave an important message to all the tennis players out there.
ADVERTISEMENT
Article continues below this ad
Coco Gauff gives a great message to all the young players on the tour
After beating Stephens in the quarter-final, she talked about the true values of life during her on-court interview. She said, "Even last year, I think, I was kind of too focused on trying to fulfill other people's expectations and I think it just enjoy life. I mean, I know, no matter how good or bad my career is, I think I'm a great person."
"So, I think, that's a message for all the young players out here… Your results, even in life in general, Your results, your job, or how much money you make, doesn't define you as a person. So, just know that if you love yourself, who cares about what anyone else thinks," she further said, as she gave a lovely message. 
Today at the French Open, Gauff played a great match against the former US Open champion, Stephens. In 1 hour and 30 minutes, the 18-year-old beat her fellow American star by 7-5, 6-2.
Gauff reaches her first Major semi-final at the French Open 2022
ADVERTISEMENT
Article continues below this ad
Since making her professional debut in 2018, Gauff has been making a lot of noise on the tour, as the next big American tennis star after Venus and Serena Williams. Her first Grand Slam debut was in the 2019 Wimbledon, where she beat Venus Williams in the first round, announcing herself to the world of tennis. Since then, she has been knocking on the door for a while, as she finally made it to the quarter-finals of the French Open last year.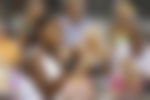 Watch This Story: Serena Williams, Coco Gauff and other American star's top moments at the US Open 
ADVERTISEMENT
Article continues below this ad
This year, she made it even further to reach the semi-final of the same tournament. In the semi-final, she will play the unseeded Martina Trevisan from Italy. It's a great opportunity for the American to reach the final of the French Open for the very first time in her career. If she does that, who knows what will happen in the final.
Can Coco win the French Open? Let us know in the comments.
Edited By: Deepakshi Chaudhary