'You Love a Redhead..' – Meghan Markle Hilariously Uses a Prince Harry Reference While Talking About Serena Williams' Compton Childhood
Published 08/23/2022, 2:43 PM EDT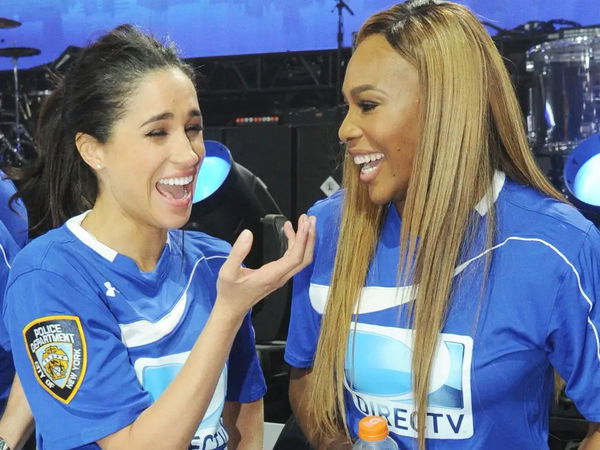 In Meghan Markle's newly launched podcast, called 'Archetypes', 23-time Grand Slam champion, Serena Williams made an appearance that garnered much attention from fans and media. In this podcast interview, they talked about many things, including Serena liking redheads.
Interestingly, Meghan was referring to her husband Prince Harry, as she asked Serena a weird question. Notably, they also talked about growing up in Compton, as the media often erroneously referred to Markle as a Compton girl.
ADVERTISEMENT
Article continues below this ad
Meghan Markle and Serena Williams talk about Prince Harry and Compton
In the podcast episode called, 'The Misconception of Ambition with Serena Williams', Markle mentioned that when Prince Harry and she started dating, the media and fans used to call Markle a girl from Compton. However, Markle grew up in Los Angeles; so, she did not often get the reference. She said, "when they said, Harry's girl is straight outta Compton, I was like, are they talking about Serena?"
Then, Serena joked, "You know, cause that's my guy (referring to Prince Harry). You know."
In reply, Markle said, "You love a redhead. And I'm like, I'm not from Compton. I've never lived in Compton. My mom doesn't live in Compton. But by the way, what's wrong with Compton? My girl Serena's from there!"
Then, Serena talked about being from Compton, as she said, "I'm so proud to be from Compton, I have to say. Like Dr. Dre is from Compton, you know. What's his name? The actor Kevin. Kevin Cont. Uh, no…No! Um, oh, my goodness. I'm blanking."
Notably, Serena was mentioning the famous American rapper, Dr. Dre, and the American actor, Kevin Costner, as they both grew up in Compton.
Serena and Markle's great friendship
ADVERTISEMENT
Article continues below this ad
In the past, Serena interestingly denied her friendship with Markle, which surprised many news outlets. However, Markle's presence in Serena's matches on many occasions proved their friendship. Moreover, Serena and her husband Alexis Ohanian also attended the Royal Wedding back in 2018.
Watch This Story: When Serena Williams' ferocious play made Martina Hingis insecure about her game
Later, according to many reports, Serena also organized a baby shower for Markle. Back in 2014, Serena and Markle met for the very first time, and have been inseparable since. In the podcast interview, Markle and Serena talked about immediately becoming close with each other as they had so much in common.
ADVERTISEMENT
Article continues below this ad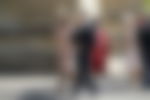 In the same interview, Serena also revealed that she took her retirement decision after talking with Markle, as she became really emotional at the thought of writing the essay for Vogue magazine. Currently, the 23-time Grand Slam champion is preparing for the US Open, her last ever Grand Slam tournament, as she will finally say goodbye to tennis.