"You Will Be Missed": Simona Halep, Angelique Kerber and Others Bid Emotional Farewell to Juila Goerges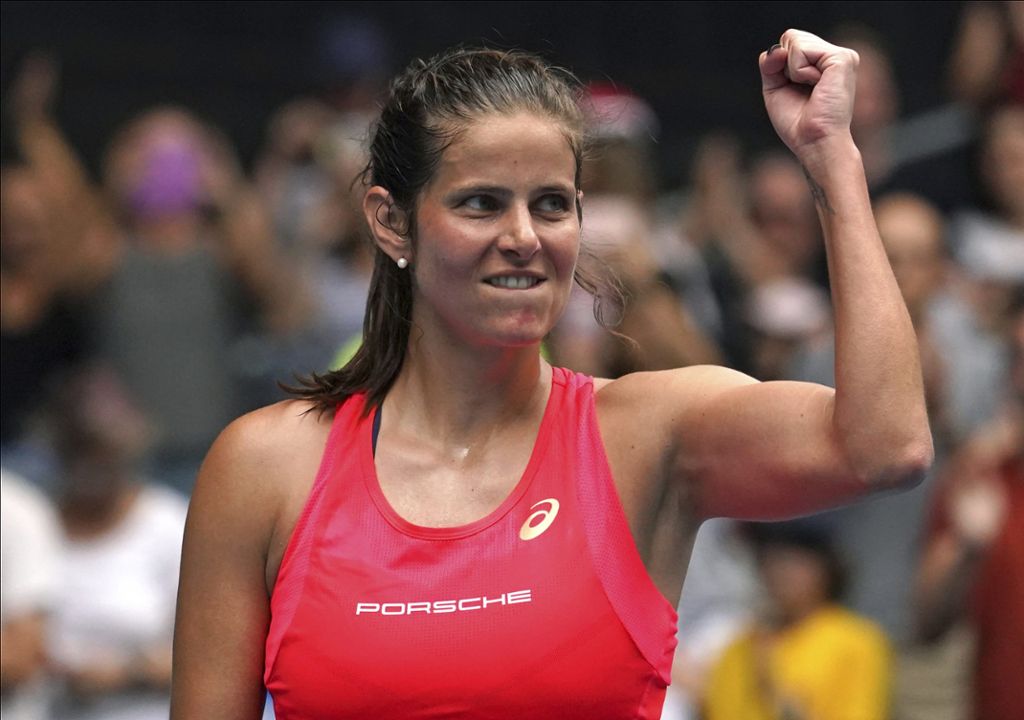 Just like how we say 'All good things must come to an end,' Julia Goerges has gracefully informed about her retirement from tennis. The 31-year-old German penned an emotional letter to tennis after choosing to end her roller-coaster ride with the sport. The messages she's receiving on her retirement depicts the invaluable mark she leaves on the game. 
After turning pro in 2005, Goerges spent her 15-year career traveling through several ups and lows. "When I started playing tennis at the age of five, I would never have thought that we would go such a long way together," Goerges wrote in her letter. 
Thank you, @juliagoerges ❤️

We'll miss you on Tour. pic.twitter.com/Uz0Ouu7VM5

— wta (@WTA) October 21, 2020
An athlete goes through a mountain of different emotions during their career. Julia Goerges was no different as she competed at the highest level in the women's game. The German gave credit where it's due and reminisced the whale of emotions she shared with tennis as a sport. 
View this post on Instagram
"I learnt how to deal with the toughest losses but also enjoy the most amazing wins of my career, to fight back many times when I was struggling with you and through it all, we never lost sight of our dreams."
Besides reaping individual success through the sport, Julia Goerges also has gained several friendships. WTA stars chipped in and mentioned their sadness over her retirement. Moreover, some even expressed their gratitude to have shared the court with her. 
Julia Goerges receives heartwarming messages on her retirement 
Ever since Julia Goerges announced her retirement from tennis, messages have been pouring in for the 31-year-old. Every little congratulatory and positive message depicts the pleasant impact she's had on her colleagues. 
Her doubles partner Karolina Pliskova sent out a warm post saying: "I just heard the news and wanted to dedicate you a few lines. First of all, congratulation on your fantastic career! We have experienced a lot of fun on and off the court, and I feel privileged that I had a chance to meet you!"
My dear @juliagoerges, I just heard the news and wanted to dedicate you a few lines. First of all, congratulation on your fantastic career! We have experienced a lot of fun on and off the court, and I feel privileged that I had a chance to meet you! pic.twitter.com/BKsy1gLtdr

— Karolina Pliskova (@KaPliskova) October 21, 2020
"Even though we achieved so many good results, our friendship is what I cherish the most!" the Czech tennis player wrote. 
World No.2 Simona Halep expressed her bittersweet feelings about Goerges' retirement and sent a sweet message to the German. 
Ohhh, this is such happy and sad news. I'm sad that I won't see you on tour any more and happy because it means you are happy off court and you are ready to start another chapter! Your future looks very bright so I'm wishing you all the best and will keep in touch! ❤️😘🤗 https://t.co/c77xKSHwc1

— Simona Halep (@Simona_Halep) October 21, 2020
Moreover, her compatriots Angelique Kerber and Andrea Petkovic posted tweets commemorating the retirement of their dear friend and on-court rival! "Starting in the youth up to the ups and downs in everyday touring … the time together in the Fed Cup team will always remain unforgettable," Kerber wrote. (Quotes translated from German via Google). 
Gratulation @juliagoerges zu einer großartigen Karriere! Etwas worauf du für immer stolz sein kannst. Wir teilen viele Erinnerungen und haben ein ganzes Tennisleben miteinander verbracht. pic.twitter.com/LveG0c7K0v

— Angelique Kerber (@AngeliqueKerber) October 21, 2020
What a career! I will miss you ❤️ Alles Gute, Jule, und herzlichen Glückwunsche zu einer fantastischen Karriere (auch wenn ich dich im Doppel mehr behindert habe als dir zu helfen😂) pic.twitter.com/ETBzxxPtG9

— Andrea Petkovic (@andreapetkovic) October 21, 2020
Moreover, a list of personalities and even official tennis pages showered Julia Goerges with the respect she deserves. The end of a 15-year career is truly special, and the German veteran bows out in an outstanding manner. 
Julia you will be missed ❤️
Congrats on an amazing career 😘 👏👏👏

— Ons Jabeur (@Ons_Jabeur) October 21, 2020
Safe to say Julia is well liked by her peers. pic.twitter.com/bo1FuKPd8q

— José Morgado (@josemorgado) October 21, 2020
Congratulations on a great career Julia!👏👏👏Wish you the best in retirement ❤️

— Aga Radwanska (@ARadwanska) October 21, 2020
During the course of her career, Julia Goerges secured 13 titles in her career, with seven of them coming in the singles event and the remaining in doubles. She has reached a career-high of No.9 in singles and No.12 in doubles to become just the third German to break into the Top 15 of both events.