'She Shouldn't Be Coming Home' – Tennis Hall of Famer's Welcome Message for Brittney Griner's Homecoming Met With Polarizing Reactions From Fans
Published 12/08/2022, 11:22 AM EST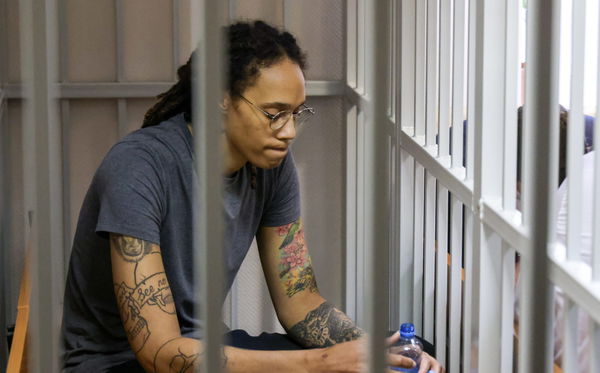 Brittney Griner, the WNBA star who was imprisoned in Russia, is on her way back home. President Biden has made a deal with the Russian government to release one Russian convict in exchange for Brittney's release. Tennis star Billie Jean King tweeted her happiness at the release of Brittney and her tweet has received mixed reactions from fans. While Brittney fans have vouched for her release, others demand that she serves her time as per the charges.
After Brittney served 294 days in prison, her release at the expense of a convicted arms dealer has caused a squabble among fans. President Biden has also released an official statement expressing happiness at Brittney's return.
Fans react to Billie Jean's tweet about Brittney Griner's release
Billie Jean for one is very happy at Brittney's "freedom". The tennis star tweeted.
Some fans have loved waking up to this news and admitted Brittney was in their thoughts. They have sympathized with her and her family and expect her quick return.
Others have talked about her mental turmoil during her time in prison. Fans also thanked the adept negotiators of the US Government who made this possible. Popular tennis journalist Ben Rothenberg has also tweeted in favor of Brittney's release.
On the other hand, there are many tweets that say Brittney should be made to serve her time. The fans have taken into account the fact that Brittney was in Russia and carrying hash is an offense there. Thus, according to these fans, Brittney should be in prison. Some fans also blamed Billie Jean King for focusing too much on the LGBTQ+ community "agenda".
President Biden released a statement in favor of Paul's release and said, "While we have not yet succeeded in securing Paul's release, we are not giving up," Biden said Thursday. "We will never give up." However, fans are not ready to let America forget about the man who was traded for Griner.
Brittney was in a "rush"
Before the court, Brittney Griner testified that she indeed had vape cartridges on her. She claimed that she was in a hurry to pack her luggage and mistakenly packed the cartridges. She was arrested for having less than a gram of hash oil in her belongings. Brittney however had genuine prescriptions to show that they were prescribed to her by a doctor in the US for pain management.
As her arrest was at the brink of the Russia-Ukraine crisis, in the days following her arrest, US-Russia tension would only heighten. The US Government has however made a "dangerous" move by giving up the 'Merchant of death', Viktor Bout. Will this move prove detrimental to the government? Only time will tell.
WATCH THIS STORY – Point Guards the Lakers need to keep an eye on