"He Was Out of Ring Shape" – Kurt Angle Blames Buffalo Bagwell for His Disastrous Main Event With Booker T
Published 07/06/2021, 12:29 PM EDT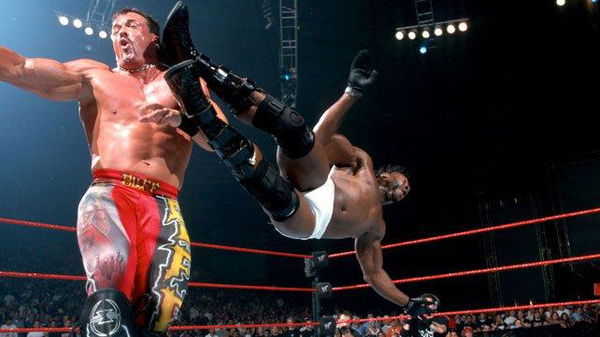 ---
---
Former WWE Superstar, Kurt Angle, recently spoke about the day when WCW was aired for the first time on WWE programming after WWE bought it. It was the main event between Booker T and Buff Bagwell for the WCW championship.
ADVERTISEMENT
Article continues below this ad
In March 2001, WWE bought their competitor WCW for $4.2 million. With this purchase, Vince McMahon put an end to the Monday Night Wars, and many WCW superstars fell under the umbrella of WWE.
Meanwhile, the roster was now bigger than before. Vince thought of relaunching WCW under the roof of WWE, and that's what happened. On an episode of RAW, they fixed a WCW main event for the night.
ADVERTISEMENT
Article continues below this ad
Eventually, then WCW champion, Booker T, would defend his title against his fellow WCW superstar, Buff Bagwell. It was a 100% WCW main event with the ring apron being WCW's and former WCW superstars as the commentators.
With all the hype developed around the match-up, it was a total flop where the crowd was chanting "you can't wrestle" and "this match sucks".
Recently, on The Kurt Angle Show, the former WWE champion, Kurt Angle said that the match did not impress the locker room. He later added it was Bagwell to be blamed for he was out of shape and rusty inside the ring.
"You know, things got a lot different. Things were changing all the time. You know, with the unsuccessful match that Buff Bagwell and Booker T had, no blame on Booker T. The blame needs to go on Buff, he wasn't prepared for it. And he was out of ring shape," said Kurt.
Why did Booker T vs Buff Bagwell match-up fail?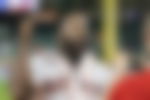 The major reason the match failed was that it was happening on WWE soil and the Superstars wrestling in the ring were their competitors from down south.
It was clear in the match that Bagwell was putting in little to no effort in making the match interesting. Although he was a decent mid-card performer in the WCW ring, he showed no efforts in the ring that night.
ADVERTISEMENT
Article continues below this ad
While Booker T tried his best to put on a good match, all his efforts went into vain because of Bagwell's lackluster movements. The only time the crowd popped was when Kurt Angle and "Stone Cold" Steve Austin interfered in the match to give a beating to WCW superstars as part of the invasion storyline.
This event marked the first and last of WCW as part of the WWE programming.
ADVERTISEMENT
Article continues below this ad