There is one wrestler whose name comes up any time there is a discussion about AEW, and that is Cody Rhodes.
There are primarily two reasons for that – he is the executive vice president of the company and has been defending his TNT championship in the open challenges for a while now at AEW Dynamite.
The open challenge has provided its benefits in terms of boosting wrestlers and entry points. This challenge is a great way for wrestlers from other organizations make an entry to the company.
Cody Rhodes expresses admiration for Henry Cejudo
In an interview, Cody Rhodes spoke fondly of UFC star Henry Cejudo.
According to Rhodes, Henry Cejudo is one whom he finds intriguing. In fact, he thinks that if Cejudo wants to wrestle, then AEW will be a good company for him to start at. There are wrestlers who come with a background of combat sports and UFC, and they can blend the lines. On the other hand, there are wrestlers who find it difficult to blend combat sports with wrestling.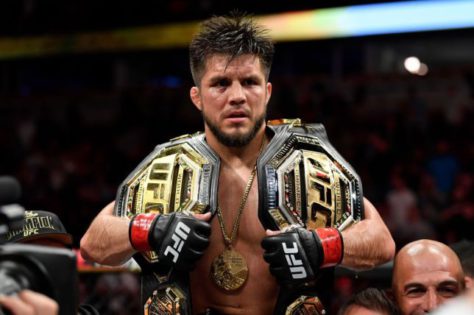 "I like Henry a lot, only because he's seen what our family looks like backstage and behind the camera. He's somebody who is very intriguing. If he had any interest in it, I think this is a company I feel very confident we would know what to do." 
Furthermore, Cody Rhodes revealed that he would absolutely love to be in the ring with Henry Cejudo as his tag team partner. He admits that there are certain storylines which are silly. However, when the time comes to perform, he goes into the ring and is ready to beat any wrestler who stands in his way.
Rhodes believes that the sports side of the company can be strengthened to a greater limit.
"I'd love to see Henry in the ring. I really would. I'd love to tag with Henry. I think he's great. He's a former Olympic gold medalist. It's very important to me that we have a real sports broadcast."
Source: ESPN