Everything You Need To Know About WWE Legend Big Show's Wife, Bess Katramados
Published 02/25/2021, 12:55 AM EST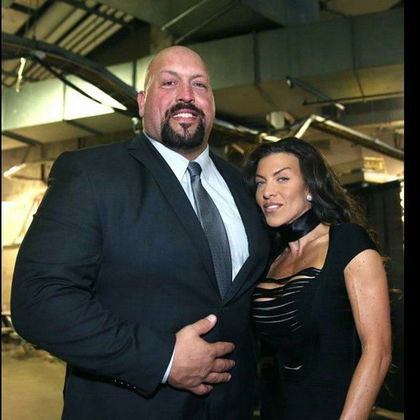 ---
---
Paul Wight aka the Big Show is one of the biggest wrestlers in the world, metaphorically and literally. However, he is also a great family man despite his tough life as a wrestler.
ADVERTISEMENT
Article continues below this ad
With five days a week, 200-plus days a year on the road, it gets really hard for the superstars to maintain a personal life. And Big Show's life is a testament to this.
ADVERTISEMENT
Article continues below this ad
Show had a brief marriage with Melissa Ann Piavis before he met his current wife. They married each other on Valentine's Day, 1997, and Wight made his WWE debut on his second anniversary at St. Valentine's Day Massacre 1999.
Reports say that the on-the-road life took a toll on their marriage. Big Show put his love of wrestling over everything else, as he won the WWF title in late 1999, only to lose it in 2000.
Their divorce was finalized on February 6, 2002.
Who is Big Show's wife, Bess Katramados?
Big Show met his second wife Bess Katramados after a strained first marriage. Katramados, a former model, was born in Illinois in 1973.
Although Katramados did not sign any major deals in the fashion industry, she was a known face in the neighboring cities. Katramados and Wight walked down the aisle on February 11, 2002, merely five days after Show's divorce.
Unlike her husband, Katramados kept a low-profile following the marriage. She does not have a social media account, and the only times she was photographed were when she was beside Big Show.
The couple has two children together, and the entire family resides in Odessa, Florida.
ADVERTISEMENT
Article continues below this ad
During his fictional sitcom The Big Show Show on Netflix, Wight played himself. However, he has a fictional family. The series features American actress Allison Munn as the wife, Cassy Wight.
Big Show's oldest daughter in the show, Lola, is from a previous relationship and moves in to live with them. Paul and Cassy have two daughters on their own, called Mandy (Lily Brooks O'Briant) and JJ (Juliet Donenfeld).
ADVERTISEMENT
Article continues below this ad