Kelsey Heather Becomes First Person to Appear on WWE Raw and AEW Simultaneously!
Published 07/14/2021, 8:37 AM EDT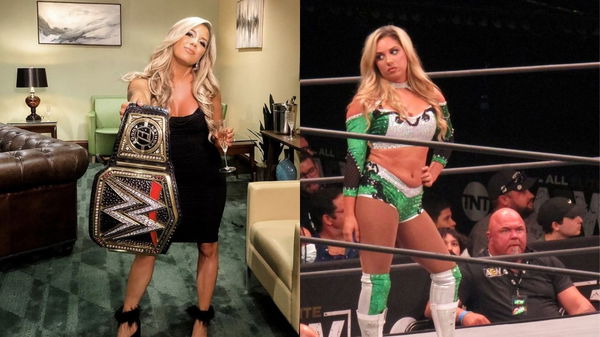 ---
---
Ever heard of Kelsey Heather? Not really? Her recent actions have brought back memories of the Monday Night Wars between WWE Raw and WCW Nitro. After all, two top promotions battled it out every week for not just ratings supremacy, but also to be called as the best wrestling promotion out there.
ADVERTISEMENT
Article continues below this ad
Both WWE and WCW pulled every possible rabbit out of the hat. In fact, WCW were so good at pulling out all the stops, that it led to one of the most iconic/controversial moments in WWE/WCW history. What was it? Well, Rick Rude appearing on Raw and Nitro at the same time!

Unbelievable, right? But it's true! And recently, someone followed Rick Rude's footsteps and did the same. However, the only difference is this time the rival promotion is AEW.
ADVERTISEMENT
Article continues below this ad
Kelsey Heather, one of Bobby Lashley's girls appears on WWE Raw and AEW at the same time!
This week on Raw, Bobby Lashley finally got rid of the materialistic things that were hampering his focus as WWE Champion. However, before that, the 'All-Mighty' enjoyed the company of his ladies, often referred to as 'Lashley's Ladies/Girls' in his locker room.
One of Lashley's girls, Kelsey Heather did the unthinkable when she pulled off a Rick Rude this Monday. Heather appeared on Monday Night Raw as well as on AEW Dark: Elevation, simultaneously!

Watch this Story: The Most Extreme Moments in WWE Money in the Bank History!
While she did not wrestle or wasn't exclusively featured on Raw, she did the exact opposite on Dark: Elevation. She wrestled a one-on-one match against 'Legit' Leyla Hirsch in a losing effort. Although, her performance in the ring was commendable.
Also, the reason Kelsey Heather could pull off this one-of-a-kind feat was because both shows are taped. Raw is live usually, but this week's episode was taped last week. Hence, she appeared on WWE and AEW programming at the same time, fourteen years after Rick Rude did.
ADVERTISEMENT
Article continues below this ad

The only difference is Rick Rude was a household name during the 90s, whereas Kelsey Heather has just begun her journey in pro wrestling. Plus, Heather hasn't signed with either promotion, she was just brought in to put over Leyla Hirsch.
However, we expect Heather to make a name for herself in pro wrestling in the years to come. After all, she's got the looks, and also has the grit to be a top star in pro wrestling.
ADVERTISEMENT
Article continues below this ad