Mick Foley, Big E, and Many WWE and AEW Superstars Pay Tribute to Daffney After Her Tragic Passing
Published 09/03/2021, 8:15 AM EDT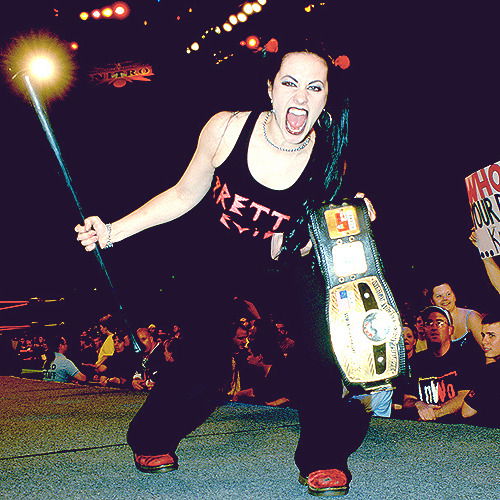 ---
---
The death of former WCW talent and IMPACT Wrestling superstar Daffney Unger shocked the wrestling world. We couldn't believe our ears when we heard the news as well. Daffney rose to fame with her extraordinary character work and a shock Cruiserweight Title win.
ADVERTISEMENT
Article continues below this ad
This devastating news also shook several wrestling personalities. Many of them even took to Twitter to say a few words about the former WCW Cruiserweight Champion. From former friends to colleagues and even entire companies sent their condolences to the late superstar.
ADVERTISEMENT
Article continues below this ad
Big name legends such as Mick Foley and current wrestlers such a Big E mourned the passing of Daffney.
WWE is saddened to learn that Shannon "Daffney" Spruill passed away at the age of 46.

WWE extends its condolences to Spruill's family, friends and fans. https://t.co/eAflHXKYlT

— WWE (@WWE) September 2, 2021
I'm so very sorry to learn of Daffney's passing. A terrible loss for her family, friends and wrestling. She was far ahead if her time in our business. #RIPDaffney

If you're hurting and thinking of doing harm to yourself, please know that help is available.
800-273-8255 https://t.co/9AH20OjY50

— Mick Foley (@RealMickFoley) September 2, 2021
So many tearful phone calls this morning. Iwas Daff's first friend in WCW. I taught her how to lock up. We stayed friends throughout our careers. I'm gonna miss her a lot. This sucks so much. I wish I had better words. 💔😞 pic.twitter.com/UQrzsId8yi

— Hurricane Helms (@ShaneHelmsCom) September 2, 2021
I'm so sorry to everyone who knew and loved Daffney Unger.

If you're struggling with your mental health, please don't be afraid to be a burden. Reach out for help. It saved my life. https://t.co/OInJczaaKz

— Ettore "Big E" Ewen (@WWEBigE) September 2, 2021
From former Intercontinental Champion Big E, to Daffney's first friend in WCW Shane Helms, several stalwarts of the wrestling world openly talked about the prevalence of mental health issues. These issues have just claimed another life in the wrestling world/
Watch This Story – The Biggest Heartbreaks in WWE History
Daffney was ahead of her time
Unger touched the lives of many, some even without her own realizing it. People need to speak out about their mental health problems. Saying you need help is not a weakness. After her tragic demise, WWE took an active step to ensure their talent has the services necessary to cope with mental illness.
With the loss of Hana Kimura in 2020 and Daffney in 2021, the wrestling world has an accurate picture of mental health awareness. In a sport where athletes put their bodies on the line on a regular basis, losing a life to mental illness seems unheard of. But that doesn't give us the impetus to ignore it.
I have never said this before:

My dad commited suicide many years ago, mental health is no joke.

Open up about your feelings, reach for help.

Help those who seek for help, make 'em look for professional help.

May God comfort Daffney loved ones in this moment.

— Cezar Bononi (@CezarBononi_) September 2, 2021
ADVERTISEMENT
Article continues below this ad
ADVERTISEMENT
Article continues below this ad
We are deeply saddened by the news and pray for her family and friends. And for everyone else, please speak up about your mental health issues, talk to someone.