Rusev Reveals He Did Not Want to Face John Cena at Wrestlemania at First
Published 09/14/2020, 8:00 PM EDT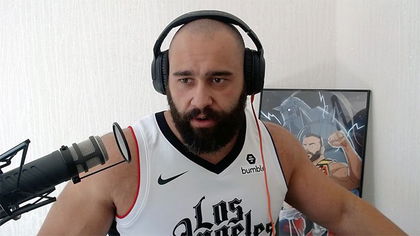 ---
---
WWE released almost 40% of their talent in May. Former three-time United States champion Rusev was also on the unfortunate list.
ADVERTISEMENT
Article continues below this ad
Since then, he has opened various avenues to interact with his fans. In fact, he has amassed a huge following on streaming platforms Twitch and YouTube.
Rusev reveals he wanted Kurt Angle at WrestleMania
ADVERTISEMENT
Article continues below this ad
Recently, during a stream on YouTube, Rusev revealed that he wanted to fight Kurt Angle in his debut match at WrestleMania 31. He hoped for a Russia vs America match with the 'all-American hero.'
"I wanted to wrestle him. I pitched — so, the first year when I was with WWE I pitched for Kurt Angle to come back and wrestle me," Rusev revealed.
"That was before I knew about the John Cena situation… I wanted to bring back Kurt, you know, as the American thing… The Swagger thing happened at SummerSlam and now, I started thinking of, 'What could we do for 'Mania.' 'cause nobody told me that I was going to work John for 'Mania. And I wanted to wrestle Kurt," he added.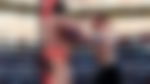 The idea was perfect for the big stage. Moreover, Rusev's 'Russian hero' gimmick would've gelled with Kurt's patriotic American persona.
"Hey, how about we bring Kurt [in]? I think it's going to be great. One, he's the greatest professional wrestler ever. Two, it's just the USA coming back and I was still the Russian.' Like, I was still doing the Russian flag, the Putin [references], and everything. Kurt would have been the perfect, perfect person."
The idea was immediately turned down. Executives cited Angle's health as the primary reason.
"They're afraid — this is verbatim. This is verbatim from the person who told me. He said, 'We don't want to feel responsible if he comes back and dies.' That's from somebody that I spoke to about it."
Ultimately, Kurt Angle had his retirement match four years later against Baron Corbin. Unfortunately, the match was lackluster and received major fan backlash.
ADVERTISEMENT
Article continues below this ad
At the end of the stream, Rusev/Miro once again expressed his adoration for the Hall of Famer and revealed he had spoken to Angle on Instagram.
"And I even texted Kurt back then, before I even knew him. I didn't text him, I DM'd him … I sent him a message on Twitter. "Hey, Kurt,' something. I think I was just telling him I wanted to work with him. And then we ended up talking back and forth."
Last week on AEW Dynamite, Rusev made his debut for the rival promotion. The 'Bulgarian Brute' was extremely excited about the debut and proclaimed that "Elite deserves Elite."
ADVERTISEMENT
Article continues below this ad
According to various reports, Rusev/Miro has a one year contract with AEW. We hope to see more of him in the next episode of Dynamite.