Retribution Leader T-Bar Takes A Huge Shot At Chris Jericho and AEW
Published 09/26/2020, 10:53 PM EDT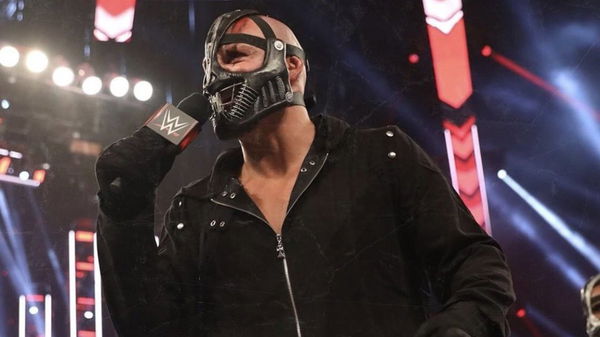 ---
---
WWE has found a new weapon to smite AEW with and that left hand of WWE is called T-Bar. The leader of the notorious faction Retribution has been assaulting AEW non-stop on social media, especially Twitter.
ADVERTISEMENT
Article continues below this ad
In a recent tweet, T-Bar took a major shot at Chris Jericho and AEW by calling him out for reportedly helping spread the virus to thousands of people.
As you can see in the reports, Jericho's band Fozzie organized a live event during the pandemic which was apparently disastrous for the crowd. Now, there are claims that Fozzie is responsible for the infection of 250,000 COVID-19 patients.
ADVERTISEMENT
Article continues below this ad
The ironic part about this is that AEW took shots at WWE earlier when some of its Superstars and backstage crew tested positive. However, now the tables have dramatically turned, and it is AEW at the receiving end.
Tazz notably mentioned that AEW doesn't run a sloppy shop in one of his promos, right after WWE revealed the truth about its cases. Now it seems AEW is in troubled waters and is going to be restricting a lot.
Retribution does not hold back the shots on AEW
T-Bar called out Jericho for the reports and undoubtedly hit out at AEW's shots at WWE. Retribution core member Mace also replied to the tweet, mocking Jericho and AEW further.
P̒ͮ̚͜L̢̔E͠Ȃ̂̔͝S̈͋E̔ͩͥ́ COͫŅ͐SID̂ͥ̒ER̅̉̔
WE̎ͨ̓AR̀ͪIN̑̏̌G̴ Ả̊ ̶Ḿ̧̀ͩAS̽̕Ḱ̢ͤ

— M̭̦̥͖̞̟̯̹A̲̮͎͚ͅC͇̞̹͕͎̪̟̜̱͈E̹̭͎̗̣̱̤̯̠̮̮̤̪̘͓ͅ (@RETRIBUTIONMACE) September 26, 2020
ADVERTISEMENT
Article continues below this ad
So far, WWE has been silently taking the many shots fired by AEW. There was no response to Jericho's "Demo God" promo or NXT insults, Kip Sabian's shot at Vince McMahon, or Miro's subtle dig at the company. 
Although, all the pent up shots are being let out by the Retribution members. We can promise you that following T-Bar on Twitter is far more entertaining than his storyline on Raw.
ADVERTISEMENT
Article continues below this ad
The ever active and loose mouthed leader has been earning a lot of fame over the weeks, taking shots at everyone in his sights. AEW has been made a constant victim and there are surely more bullets lefts in T-Bar's gun.