Snoop Dogg Reveals How His AEW Appearance Affected His Relationship With WWE
Published 04/24/2021, 7:30 AM EDT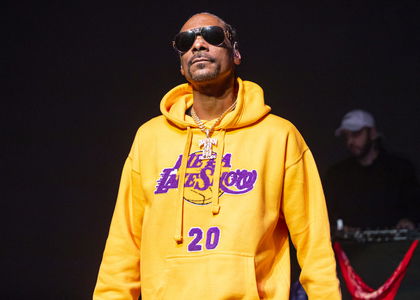 ---
---
Whenever the question of AEW comes up, WWE always maintains that they are not threatened with the former's existence. However, WWE indeed has some reservations when it comes to their "rival." WWE Hall of Famer Snoop Dogg has the details on the situation.
ADVERTISEMENT
Article continues below this ad
Not too long ago, Snoop (a WWE regular, some might say) appeared on AEW out of nowhere. Not only did he perform a remix of AEW superstar, EVP, and former WWE superstar Cody Rhodes, but he also performed a frog splash during the segment.
Back then, reports claimed that WWE had no problem with Snoop Dogg appearing on AEW New Year's Smash. Yet, in a recent interview, the rapper revealed his actions had some repercussions.
ADVERTISEMENT
Article continues below this ad
While speaking to Peter Rosenberg of Hot 97, Dogg revealed WWE "felt some type of way," and even "pushed pause" on him for two weeks. Snoop Dogg confirmed he was on AEW just to promote a show, and there were no plans of him formally joining the promotion.
"Let me tell you this, Snoop Dogg ain't no wrestler. He's bigger than that," he said. "You gotta understand that. This is the dynamics of what happened: I had a show on TBS called Go-Big Show. So, Cody Rhodes was one of the judges on the show, and he's one of the top dogs at AEW. So, as a promotional vehicle for the gig, I went on AEW."
Snoop says WWE "felt some type of way" when he showed up on AEW Dynamite, got word from them they wanted to "push pause" on their relationship, that lasted about 2 weeks before they asked Snoop to be a part of their new video game. pic.twitter.com/QRbWTdY2y6

— Danny (@dajosc11) April 23, 2021
WWE blacklisted Snoop Dogg following AEW appearance
Like we mentioned earlier, WWE was not happy with Snoop appearing on AEW all of a sudden. Although they could not cut him off due to a possible contract, they indeed blacklisted him.
Right after the appearance, Snoop Dogg heard from WWE. "Hey, you fu**ing with them? We got to push pause on your a** for a minute," said Snoop. "So, I said cool. They pushed pause for about two weeks, and then they go, 'hey man, we got this video-game and we need you.'"
ADVERTISEMENT
Article continues below this ad
Snoop then also doubled his fees due to the "pause." "I said, 'You know what, since you all told me to push pause, that'll be double," Snoop said. He also confirmed he will be a part of the latest WWE video game, possibly WWE 2K22.
Snoop Dogg has been a WWE regular and was inducted into the Hall of Fame in 2016. He has made several WrestleMania appearances, including performing for his cousin, Sasha Banks, at the "grandest stage of them all."
ADVERTISEMENT
Article continues below this ad