"We're Gonna Take Care of Your Family" – Chris Jericho and Jon Moxley Pay Heartfelt Tribute to Brodie Lee
Published 12/31/2020, 7:25 AM EST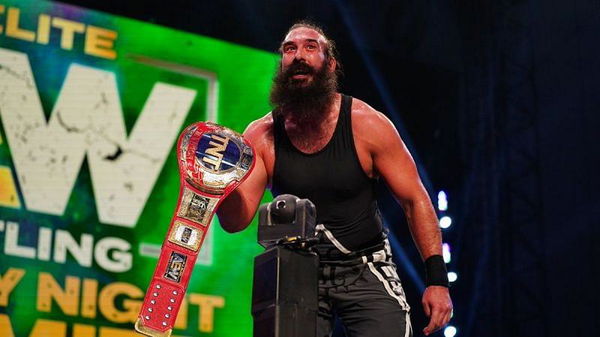 ---
---
Brodie Lee left for his heavenly abode on Boxing Day as everyone celebrated Holiday season. The news was an enormous shock for everyone from fellow pro wrestlers to fans across the globe. Nobody saw it coming, and the announcement just left everyone shook from within.
ADVERTISEMENT
Article continues below this ad
Last night, AEW celebrated the life of Brodie Lee on Dynamite with a special match card dedicated to his memory. Not just that, but they also legitimately signed his eldest son, Brodie Lee Jr., to an AEW contract.
ADVERTISEMENT
Article continues below this ad
Chris Jericho and Jon Moxley pay tribute to Brodie Lee
The show opened with a ten bell salute with the entire AEW roster on stage. Various AEW wrestlers also shared personal video messages as a tribute to the late great Jon Huber aka Brodie Lee/Luke Harper including Chris Jericho and Jon Moxley.
Jericho opened his tribute by highlighting he faced Brodie Lee/Luke Harper 27 times in his career. He shared a story of him and Brodie during a tour in Jeddah, Saudi Arabia. Jericho said there was a mark on the ceiling of his hotel room that kept bothering him. Initially, he thought it's a bug, but it wasn't.
Jericho then revealed Brodie Lee came to chill in his room, and that's when he pointed out the mark on the ceiling that kept bothering him. Brodie quickly explained to Jericho that it wasn't a mark but an arrow that pointed towards the direction of Mecca.
'Le Champion' pointed out Brodie's extreme knowledge, praised him as an outstanding worker, and concluded with a promise to always take care of Brodie's family.
ADVERTISEMENT
Article continues below this ad
The former AEW Champion Jon Moxley, too, talked about the great career and legacy of Brodie Lee. You could feel the emotion and genuine sadness in Moxley's voice as he spoke about Brodie Lee's incredible career.
ADVERTISEMENT
Article continues below this ad
Mox said he had the privilege of spending over a decade with Brodie and also talked about the immense love he had for his family. He was a dad before all the other roles he donned in his illustrious career and life.
Brodie Lee's legacy will forever be cherished for generations to come. It was too soon for a lovable giant to go that soon. It's a sad time for Brodie's family, fellow wrestlers and fans, but we must honor his legacy by always remembering him. 'The Exalted One' lives on forever!