"His Head Snapped Back": Ric Flair Wrestles Again at 73, Leaves WWE Fans With Dropped Jaws
Published 05/14/2022, 7:30 AM EDT

Follow Us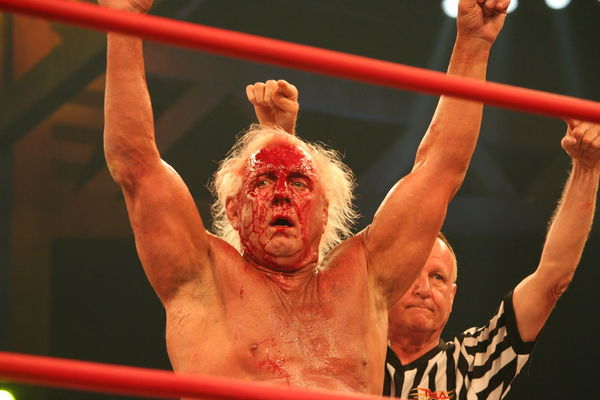 Ric Flair is a true GOAT of Pro-wrestling. His in-ring career spanned 40 glorious years. He achieved all the major championships around the world during his career. To cap it off, The Nature Boy ended his career as the only 16-time World Champion in pro wrestling. 
Although now he holds the record of 16 World Championships with John Cena, who tied with Flair when he won the WWE Championship at Royal Rumble 2017. 
Ric Flair's ended in 2008 at WrestleMania 24 after a loss to Shawn Michaels. However, he wrestled for an additional four years in Impact Wrestling (then known as TNA) and also during Hulkamania Tour of Australia.
ADVERTISEMENT
Article continues below this ad
Since 2012, Flair has not stepped foot in a ring for a match. But that doesn't mean Naitch doesn't feel the itch.
The Nature Boy has been a non-wrestling personality since his retirement and has appeared in WWE multiple times. He teased his in-ring return many times, but that did not happen. 
Recently, Flair posted a video on Twitter of his training with AEW Star and his friend Jay Lethal. Ric Flair wrote a two line message for all his fans. He noted how important basic fundamentals are in pro wrestling, while showing off his immaculate prowess in the ring at age 73!
This is the second time Ric Flair has posted a training video with Lethal. And seemingly, it's not just warm up, the 'Limousine Ridin, Jet Flyin Son of a Gun' is actually planning a return to the ring at 73! Dave Meltzer of the Wrestling Observer confirmed the news of Flair training for an in-ring return.
Meltzer wrote, "Ric Flair is training to wrestle again. The stories about his return are accurate."
Ric Flair left WWE in August 2021 after his storyline with Lacey Evans was canceled after Evans announced her pregnancy. WWE signed the Nature Boy in a non-wrestling capacity under their 'Legends Contract' until 2021.
Fans react to the recent video of Ric Flair
Ric Flair is an iconic of professional wrestling, making him a household name across the globe. The Nature Boy still rides with flamboyance and continues to captivate his fans, like he did after his recent training video went viral.
Flair's fans flooded twitter with massive praise for him, while some even raised genuine concern citing his age.
Diamonds are forever and so is Ric Flair!!!

— Terrell4life/Light Skin Privileged (@terrell4life) May 13, 2022
How are you able to still do this?? Just amazing. You are truly the NATURE BOY!

— I'm that Guy (@HannibalChris) May 13, 2022
Wrestling is so in the gutter that a 73 year old Ric Flair still punches better than 99% of today's professional wrestlers

— SpΩrty JΩsh 🇨🇦 🇵🇸 (@SportyJosh6) May 14, 2022
Why are you hitting him so hard? I saw how his head snapped back! This is definitely not a sparring session.

— Super Friday (@iiSuperFridayii) May 14, 2022
It's great that you can still enjoy doing what you love even if it's at home. I can't strap helmet on and go play the game I love so be thankful for your health and God given but hard earned talents.

— Villain23 (@23VILLAIN23) May 13, 2022
Ric flair come to wrestlecade this year

— Chris Epps (@ChrisEp41298033) May 13, 2022
Ric Flair is greatest to ever step in the ring. I have been watching Ric since the days of Mid-South Wrestling 🤼‍♂️. Most of you know nothing about Mid-South Wrestling.

— Lambert (@lam600) May 14, 2022
Since Ric Flair left WWE in 2021, he appeared on the independent circuit after a long time. He made his presence felt at AAA's TripleMania XXIX event and NWA's 73rd anniversary last year. However, he did not make any high-profile appearances after the episode of a Dark side of Ring: Plane ride from Hell Incident.
Is Flair again signed with WWE?
WWE and Peacock released a series recently which showcases the best heels in the business and WWE. The name of the series was EVIL, which had a total of 8 episodes. Surprisingly, the 7th episode was dedicated to WWE Hall of Famer Ric Flair.
ADVERTISEMENT
Article continues below this ad
Ric Flair WWE in 2021 and appeared in the series talking about his time working as a heel in the business. Apart from that, The Nature Boy is also doing to appear at Megacon with WWE Legend The Undertaker to represent Vince McMahon's company.
ADVERTISEMENT
Article continues below this ad
It seems even though Flair is not longer with WWE; he has kept a good relation with the company. The primary reason for the same can be his daughter Charlotte Flair, as a year later after The Nature Boy left WWE still acknowledges Ric Flair's wrestling records.
Watch this story:-  From Being An Ice Hockey Fan to Hunting : Brock Lesnars Favorite Hobbies Outside WWE