James Gunn Teases John Cena's Entry Into His DCEU Days After Snubbing Dwayne Johnson and Henry Cavill
Published 03/19/2023, 9:15 AM EDT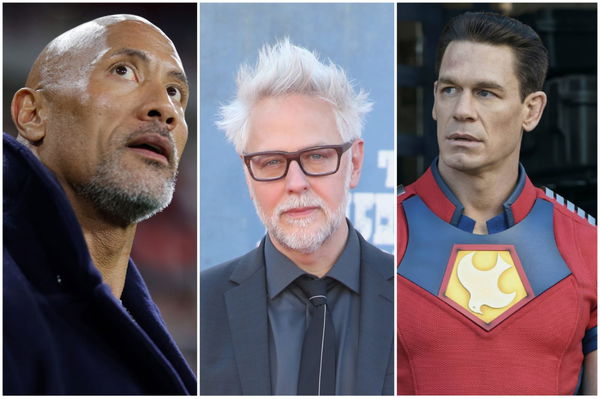 By the time DC released the Black Adam in the theatres, the studio saw ample changes. As a result, Dwayne Johnson left DC for the time being and with his Black Adam run currently on the shelf. However, when DJ left, there were questions about John Cena's future, but it seems the Peacemaker star is still a part of the DC universe.
Recently, a post by James Gunn has made fans think that John Cena's Peacemaker character will be a part of the new DC universe and Gunn's vision for the studios.
James Gunn teases John Cena's DC return after the departure of Dwayne Johnson
If there is a common key between MCU, DCEU, and WWE, then that is James Gunn. The 56-year-old director has worked with Batista in the MCU Guardians of the Galaxy and Cena in DC's The Suicide Squad and Peacemaker series.
Recently, the new co-CEO of DC Studios replied to a tweet that stated Gunn working with two WWE superstars who are "incredible actors" too. Gunn replied, writing, "Yep. Two of the best actors (and human beings) I've worked with."
'The Animal' and Gunn will have their final MCU film, i.e. Guardians of the Galaxy Vol.3 in theatres soon. Nevertheless, this post indicates Gunn and Cena have been talking about his DC return and Peacemaker as part of the 56-year-old's new vision for DCU.
A few months prior, Gunn announced that The Rock's Black Adam and Henry Cavill's Superman will not be part of the new DCU. Moreover, Black Adam didn't earn well at the box office as the studios expected it would after the heavy marketing of the film leading to them in an entire new direction.
After Cena's successful and critically acclaimed role of Peacemaker in The Suicide Squad, the DCEU went with a solo HBO series of eight episodes. The fans loved the series and are waiting for season 2 ever since. It seems there are surely some talks about the same as Gunn agreed he loves working with Cena.
Fans react to this post by James Gunn
The WWE and DCEU fans reacted to this post where Gunn called Batista and Cena the best actors. They mentioned when Peacemaker 2 will be announced and also about Batista's future in the DCEU after he wraps with MCU.
John Cena is still a member of DCEU under Gunn's leadership.
Fans ask if Peacemaker 2 will ever happen?
Someday the Batista, Cena and The Rock will be in one DC film!
Shots were fired at Dwayne Johnson!
This user requesting to give a green signal for Black Adam vs Shazam!
Do you think James Gunn will soon announce the Peacemaker 2 series? Also, will Dwayne Johnson ever return as Black Adam? Share your opinion below.
Watch This Story:- Top Six Hollywood Movies of Former WWE Champion Dwayne "The Rock" Johnson
Edited By: Sherjeel Malik