WATCH: Ric Flair Fakes Heart Attack Leaving The Undertaker and His Daughter Charlotte Concerned
Published 08/01/2022, 2:33 AM EDT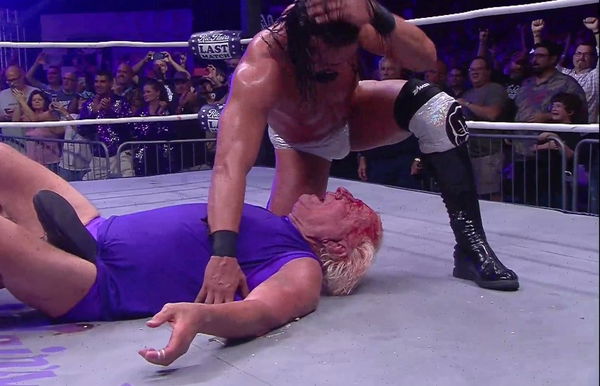 Nashville was turned into Flair Country as Ric Flair had his last match at Nashville Municipal Auditorium. Flair previously headlined multiple WCW events against Ricky Steamboat and Randy Savage in the same arena.
In the last match of Ric Flair, we got to witness again why he is known as 'The Dirtiest Player in the Game'. While the fight went outside the ring, Slick Ric almost gave Jay Lethal a major worrisome moment.
ADVERTISEMENT
Article continues below this ad
Ric Flair and Jay Lethal took the fight outside the ring. Lethal started throwing punches on Flair near his elder daughter Megan Flair and son-in-law Conrad Thompson. However, called The Dirtiest Player in the Game, Naitch faked a heart attack to stop the punches from Lethal.
Italo Santana shared a clip from the match in which Flair used one of his tricks. There were Mick Foley, Bret Hart, and The Undertaker, along with his family nearby, when Flair faked a heart attack.
The AEW wrestler quickly stopped throwing punches and asked the referee to check on Flair. It seems the 'Son of a Gun' did this on the spot to make Black Machismo a little worried. However, Naitch, while Lethal was distracted, quickly raked his eyes.
After the match, when Flair walked backstage, Jay Lethal hugged him. The AEW wrestler has always been the biggest fan of The Nature Boy. Moreover, he trained with Flair for this match a couple of months ago.
Fans react to Ric Flair faking a heart attack
It was a sight to watch Ric Flair wrestle for the last time. However, everyone was worried about his health and wished The Nature Boy would come out strong out of the match. The fans reacted to the above clip of Flair using his tricks in the match.
He's not the dirtiest player in the game for nothing lol

— Rick E Langston (@radvstheworld) August 1, 2022
Guess u can say that's the oldest trick in the book

— 💉 (@3hiqh) August 1, 2022
Indeed, he is the Dirtiest Player in the Game
Dirtiest player in the game lol

— Shawn Mart (@clean_start_gx) August 1, 2022
Slick Ric!
Jay Lethal was afraid for a moment.
That's the nature boy for ya 🤣🤣

— Inno (@TheRealInno905) August 1, 2022
At 73-years old, Flair was busted open
Ric Flair went to greater extend in his last match. He trained hard and put every pound of muscle he had for this match. Moreover, The Nature Boy cut himself while he was being punched by Jay Lethal and Jeff Jarrett.
ADVERTISEMENT
Article continues below this ad
While all the wrestlers were outside the ring brawling, Flair busted open his head at the time. This might be when Karen Jarrett and Meghan Flair had a small fight near the barricade.
ADVERTISEMENT
Article continues below this ad
Did you watch the match? What are your views about the match? Share your thoughts below.
Watch this story:-  Dwayne Johnsons Daughter Simone to The Undertakers Daughter Kaia – Meet Daughters of Top WWE Stars