WWE Legend Kurt Angle Praises Triple H and Dwayne "The Rock" Johnson for Carrying Him Through After a Concussion
Published 08/30/2021, 2:21 PM EDT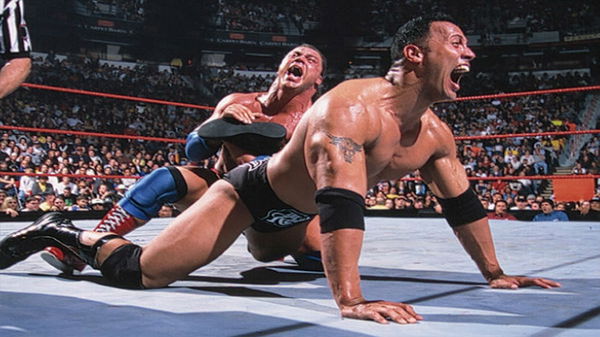 ---
---
Kurt Angle is surely one of the greatest wrestlers to have ever laced up a pair of boots. Kurt has started other ventures ever since his retirement from wrestling. One of them being The Kurt Angle Show, where he breaks down his legendary career. Kurt discusses what went behind, putting together a particular show, rivalries, disagreements and all the spicy stuff that goes behind the scenes.
ADVERTISEMENT
Article continues below this ad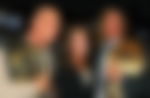 In a recent discussion with Paul Bromwell, Kurt talked about the slightly infamous SummerSlam 2000 match with Triple H and The Rock. Many would believe those three names in a match together would make a perfect match. Kurt gets knocked out immediately at the start of the match.
ADVERTISEMENT
Article continues below this ad
Kurt talked about the concussion, saying, "Yes, without a doubt, that was the most severe concussion I had. I had one four or five months prior. I forget what it was from. This one was heavy, pretty stiff"
 Kurt Angle opens up about the Incident
ADVERTISEMENT
Article continues below this ad
Kurt added he thinks that was the worst concussion of his entire career. He adds it was also a match where the calls were rather audible. He credits Stephenie and Triple H for calling spots for him in that match. They recall the match subsequently, noting that the botch was towards the very start of the match.
Paul adds that the table probably breaks prematurely through the pedigree, knocking out Kurt for a while. Kurt also highlights how the business has changed for the better now with medical protocols. He added, "If they do get concussed, they aren't allowed to wrestle. Definitely not going out for a match." Paul claimed Kurt was probably knocked out immediately and Triple H had to communicate with him discreetly.
ADVERTISEMENT
Article continues below this ad
Kurt also mentions that him going out again after the match ended definitely sent a message to Vince. The message is that this guy is willing to go all out for the business. Kurt also added that it may or may not have altered the storyline with Triple H and Steph. Kurt felt that the incident might have also ignited the idea of him being pushed for the world title.