Michael Chandler Channels his Inner Ric Flair After Monumental Win at UFC 257
Published 01/24/2021, 8:48 AM EST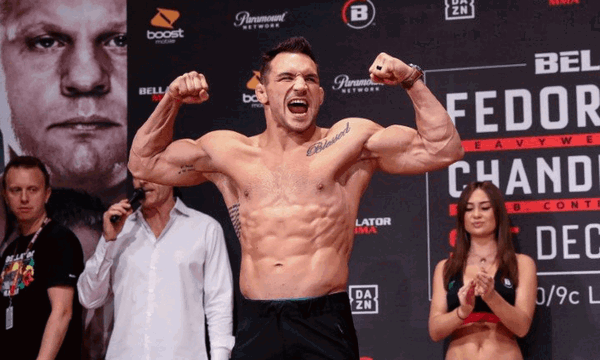 ---
---
Michael Chandler made his UFC debut in enthralling fashion. He defeated the Kiwi Dan Hooker at UFC 257 today in just 2m 30s in Round 1. There were high hopes from Chandler making the switch from Bellator to UFC, and he rightfully delivered. Plus, he even channeled his inner Ric Flair in the post-fight interview.
ADVERTISEMENT
Article continues below this ad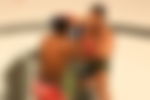 Michael Chandler pulls off a Ric Flair at UFC 257
ADVERTISEMENT
Article continues below this ad
Things really got more exciting in the post-fight interview. Chandler showed the world he can not only bring the fight inside the octagon, but he can talk too! He cut an impressive promo that had shades of Ric Flair.
He said, "I gotta get something off my chest. I tell y'all this. This is the greatest moment in my professional life. Conor McGregor, surprise, surprise! There's a new king in the lightweight division. Dustin Poirier, your time is coming. And Khabib, if you ever do see fit to grace us with your presence back here in the UFC octagon in your quest for 30, you know you got to beat somebody. So, beat me if you can."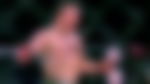 Daniel Cormier was quick to point out that Chandler pulled out a Ric Flair. DC immediately noted it was the iconic Ric Flair promo from the 1992 Royal Rumble. For those who don't know, Ric Flair cut one of the best promos of his career after winning the WWF Championship in the 1992 Royal Rumble Match.
A line from that iconic promo still remains fresh inside our minds. The 'Nature Boy' had said, "With a tear in my eye, this is the greatest moment in my life." It looks like Chandler prepared his promo, taking inspiration from Naich himself. Either way, whatever 'Iron' said seemed legit and has only added more expectations from the former Bellator fighter.
Dave Meltzer of the Wrestling Observer noted that Chandler's promo can also be compared to the promo delivery style of Taz and The Grappler.
He's been practicing that promo. Cormier said Chandler did a Ric Flair promo, really it was The Grappler/Taz. Hooker threw his gloves in the octagon.

— Dave Meltzer (@davemeltzerWON) January 24, 2021
ADVERTISEMENT
Article continues below this ad
'Iron' Michael Chandler is no rookie in MMA. He has been fighting for eleven long years and fought 26 matches with a 21-5 record before his UFC debut. Chandler's presence inside the octagon was dominant as hell. His victory against Hooker gave him his 17th finish in MMA history.
What did you think of Michael Chandler's UFC debut? Let us know in the comments below!
ADVERTISEMENT
Article continues below this ad