10 Rare Times 'Anti-social Beast' Brock Lesnar Socialized With People
Published 07/01/2022, 12:30 PM EDT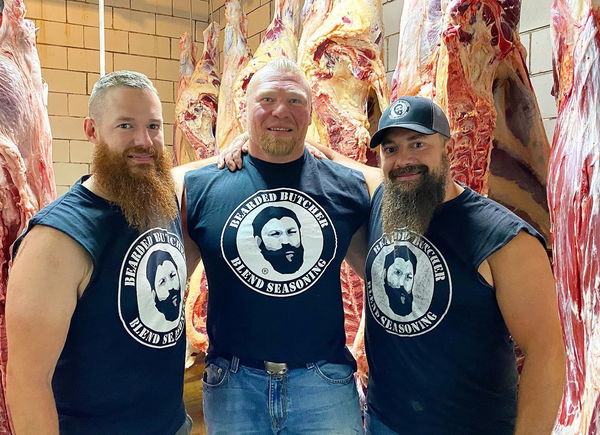 Any Brock Lesnar fan knows how 'The Beast Incarnate' loves to live a private life. Lesnar has successfully kept his personal and professional life separate from each other. Moreover, 'The Beast' is not a social person and loves to spend time alone on his farm.
However, there are a few instances when Brock Lesnar has been socializing with his fans. Most of it was seen since he has taken over the gimmick of 'Cowboy Brock'.
ADVERTISEMENT
Article continues below this ad
10 times we saw Brock Lesnar socializing
1) Celebrating WWE Title Win with NHL Legend in Atlanta
Brock Lesnar won the WWE Championship on the DAY 1 Premium Live Event back in January this year. However, former Canadian Ice Hockey player Rick Tocchet ended up in the same hotel as WWE Champion Brock Lesnar in Atlanta, Georgia. They took a picture together in the hotel lobby which Tocchet shared on his Twitter.
Canadian Ice Hockey players, Paul "Biz" Bissonnette, The Great Gretzky aka Wayne Gretzky, and television sportscaster, Liam McHugh, were also present in the picture. They posed with Lesnar's newly won WWE Championship.
2) Slamming the Jacka** Forever cast member
The month of January was a happening month of 'The Beast Incarnate'. On January 1, he won the WWE Championship, and on the next night on RAW cut a promo that was loved by everyone. Also, his next opponent was 'The Almighty' Bobby Lashley for his title at Royal Rumble.
However, a night before the Rumble, 'The Beast' body slammed the TV star, Wee Man, through a dinner table in a crowded restaurant. Thankfully, Lesnar was just joking and Wee Man took a little bump on the table.
3) A golden interview with Pat McAfee
After losing his title to Bobby Lashley at Royal Rumble, Lesnar made his mission to take the title back and become a 10-time world champion in WWE. However, this match was inside the Elimination Chamber and this was Lesnar's first time in a Chamber match.
However, ahead of the event which was in Saudi Arabia, Lesnar appeared in an interview on The Pat McAfee Show. We got to see an unseen side of Lesnar for the first time.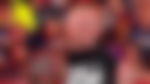 The most memorable thing was The Beast impersonating Stone Cold Steve Austin and throwing the headphones on the roof.
4) Learning the art of Butchering with The Bearded Butchers
Brock Lesnar grew up on a farm and loves the work which is related to the same. In 2020, Lesnar took a silent retirement and thought of focusing on his hobbies, i.e. hunting, farming, and butchering.
He, along with his children, visited The Bearded Butcher's shop to learn more about the same. We saw a different version of Lesnar and the first time we saw The Beast in his 'Cowboy Brock' look.
5) The Beast making goofy faces
Brock Lesnar made his return at WWE SummerSlam and then appeared on a previous episode of Friday Night SmackDown and confronted Roman Reigns for a WWE Universal Championship match, which he eventually accepted.
 

View this post on Instagram

 
Later in December 2021, Lesnar took a photo with a woman, and they appeared to be dancing and/or holding hands, and Brock had a goofy look on his face.
6) Brock the 'Security Guard'
Back in 2015, before Brock Lesnar made his return to the UFC in July 2016, the WWE superstar considered a career as an ESPN security guard. ESPN shared the video on their YouTube Channel about the fun Lesnar had.
He had conversations with multiple employees that work at the ESPN office. One of the employees said, "It's not every day Brock Lesnar let's me in." 
7) Brock Lesnar serves breakfast
Back in 2015, Former UFC champion and WWE superstar, Brock Lesnar, took over ESPN's cafeteria and served employees some quality breakfast. 
The Beast Incarnate just didn't work as a security guard, but also worked in the canteen. He served the employees some protein-packed morning food to start a great day.
8) Using a flip phone
Brock Lesnar, who returned to WWE in 2021, was back with a new look. The fans quickly named him 'Cowboy Brock'. However, in one of the episodes of SmackDown, Lesnar shared a moment with the WWE official, Adam Pearce.
He was showing Pearce the picture of his farm on his flip phone. Lesnar had returned from his suspension, which Pearce had given him a few months ago.
9) Family time at the Winnipeg Jets game
Brock Lesnar is a fan of Ice Hockey and is present to watch the game whenever he gets the chance in the indoor stadium. Back in 2017, Lesnar, along with his wife Sable and children, went to watch the game.
After the game was over, The Beast and his family were backstage in the locker room, clicking pictures with players. They also had a quick tour of the arena.
ADVERTISEMENT
Article continues below this ad
10) Celebration with the fans
When Brock Lesnar won the WWE Championship at DAY 1, he celebrated with the fans. This was a sight to watch for everyone as Lesnar usually walks backstage after winning a match.
ADVERTISEMENT
Article continues below this ad
He did not only celebrate with the fans but took selfies with multiple people in the crowd. He made the night memorable for the WWE Universe.
Watch This Story:- Dwayne Johnson's Daughter Simone to The Undertaker's Daughter Kaia – Meet Daughters of Top WWE Stars
Edited By: Vibhanshu Kumar