Will Shaquille O'Neal Ever Wrestle in WWE?
Published 05/01/2022, 10:40 AM EDT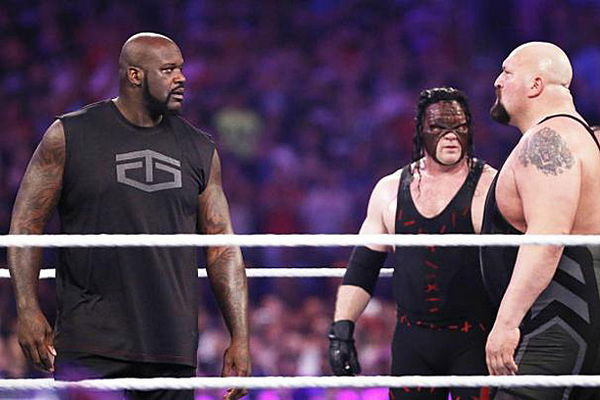 When it comes to great basketball players Shaquille O' Neal needs no introduction. Shaq had a great basketball career and spend a major part of his career with Los Angeles Lakers in NBA. He is a four-time NBA and retired as one of the great players of the game.
ADVERTISEMENT
Article continues below this ad
After retirement, Shaq entered various different fields. The most notable fields were acting and professional wrestling. Shaq has acted in many movies and TV sitcoms. He is a lifelong fan of pro wrestling and has appeared in multiple wrestling companies over the years.
ADVERTISEMENT
Article continues below this ad
Shaq's most notable wrestling appearance is on WWE in 2009 and at WrestleMania 32 as an entrant in Andre the Giant Memorial Battle Royal. He also wrestled a match in AEW in the year 2020.
Will Shaquille O' Neal wrestle in WWE ever?
It is no secret to WWE and NBA fans that Shaquille O' Neal is a massive fan of professional wrestling. Although he has only had a few matches in the business, with one in WWE and one in AEW.
Surprisingly, Shaq has never had a single tag team WWE match. His only appearance was at WrestleMania 32 in Andre the Giant Memorial Battle Royal in which other superstars eliminated him quickly after having a stare-down with his WWE arch-rival, Big Show.
There was a match proposed between The Big Show and Shaq at WrestleMania 33, but it was canceled as the schedule of both parties did not match. Hence, the occasion for Shaq's first-ever official WWE single match never came.
Shaquille O' Neal is 50-years old now and still has some action left in the tank. A couple of years ago, he wrestled in his career's second match in AEW and it was a sign that he can have a great match at this age too.
The WWE fans wish him to have a single match in Vince's promotion against The Big Show. However, The Big Show is in AEW currently and Shaq has given no signs to wrestle one more match.
Cody Rhodes is a good friend of Shaquille O' Neal. Perhaps he can convince the NBA star to wrestle in WWE. It is possible for WWE to book an official match of Shaq with their newest giant Omos. They both have a basketball background and share similar agility. Vince McMahon should try to convince Shaq for a WWE match before he hangs his boots forever.
Shaq's other wrestling company appearances
Shaquille O' Neal is popular in the pro wrestling business too. The NBA star has made some appearances in WWE and AEW, which are popular among the fans.
ADVERTISEMENT
Article continues below this ad
However, Shaq has been a part of the other two top companies as well. He was at WCW: Bash at the Beach PPV in 1994 wearing a traditional Hulk Hogan yellow and red Hulkamania T-shirt. Apart from that, he was on TNA Impact in 2013 to have a backstage talk with Hulk Hogan.
Shaq's most recent appearance was in All Elite Wrestling, where he had a match against Cody Rhodes and Red Velvet teaming with Jade Cargill. He also tribute to the late Brodie Lee by doing Lee's iconic signature gesture.
ADVERTISEMENT
Article continues below this ad
Do you want to see Shaq having one more match? If yes, then where would you want him to compete? WWE, AEW, or some other wrestling company? Share your thoughts below.
Watch this story:-  From Being An Ice Hockey Fan to Hunting: Brock Lesnar's Favorite Hobbies Outside WWE