WATCH: 'Rookie' LeBron James Holds WWE Legend By His Neck and He Couldn't Do Anything About It
Published 05/07/2022, 9:21 AM EDT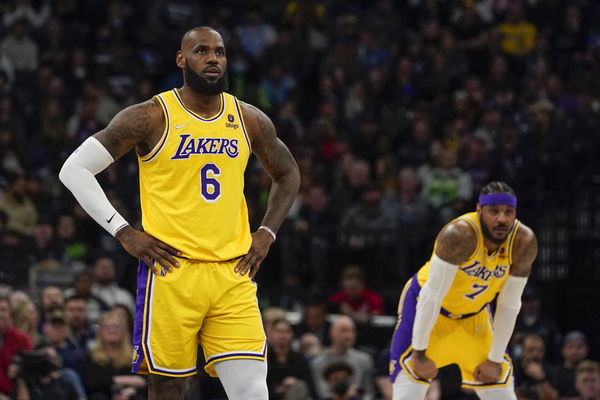 Over the years, we have seen NBA players making appearances in professional wrestling promotions. Similarly, in  2003 then NBA rookie player LeBron James appeared on a WWE RAW show once.
ADVERTISEMENT
Article continues below this ad
That appearance by James is famous because of the young NBA player showing off and clicking pictures on his Panasonic flip phone. Recently, a resurfaced video of WWE highlighted the fun LeBron James had in his first WWE show.
ADVERTISEMENT
Article continues below this ad
The year 2003 was a massive year for LeBron James. He was the hottest rookie player signed by the Cleveland Cavaliers; a team with whom he spent the most time playing in the NBA. Also, in 2003, James won the NBA Rookie of the Year award.
In the video shared by WWE, we can see young LeBron James enjoying the show from the front row near the barricade. He was clicking pictures of every WWE superstar on his flip phone, especially of Stone Cold Steve Austin.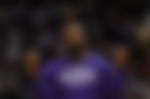 James also had some fun backstage, where we can see him clicking pictures with Stacy Keibler, Bubba Ray Dudley, and Goldberg. However, King James is seen holding Goldberg around his neck like a pro-wrestler, to which the former WCW Champion couldn't do anything. The camera angle seems like James is trying to choke Goldberg.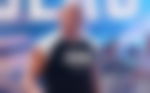 LeBron James also had fun in the backstage area where he met several other superstars. He signed some NBA and WWE merchandise and met some fans backstage. Overall, LeBron James enjoyed his first visit to WWE RAW and made it memorable.
LeBron James spotted wearing The Undertaker T-shirt
Some time back LeBron James, also referred to as 'King James', was spotted wearing The Undertaker t-shirt. He was waiting for his practice session to start in Oakland with his teammates.
NBA official Twitter posted it on their account saying, "LeBron chilllin' before the @cavs #NBAFinals practice in Oakland."
This picture is an old resurfaced picture of King James. He is a fan of WWE and is considered an important member of the WWE Universe. 
Which other NBA stars have appeared in WWE?
ADVERTISEMENT
Article continues below this ad
There are many NBA players who are fans of WWE or professional wrestling in general. Many players have made appearances in WWE and also in WCW back in the day. While the RAW visit of LeBron James is famous, many others have also visited.
Dennis Rodman is a Hulkamaniac and made his presence felt on WCW Nitro and also had a tag team match teaming with Hulk Hogan against DDP, and another NBA star, Karl Malone. Shaquille O'Neal has also appeared in WWE twice, of which once he was a part of André the Giant Battle Royal at WrestleMania 32.
ADVERTISEMENT
Article continues below this ad
These were a few appearances by NBA stars in WWE. With celebrity matches becoming a thing in WWE, we will surely see many basketball players appearing in WWE.
Watch this story:-  From Being An Ice Hockey Fan to Hunting : Brock Lesnars Favorite Hobbies Outside WWE