25-Year-Old WWE Superstar Shares His Work Before "Main Event" as He Prepares to Give John Cena a "Warm Welcome"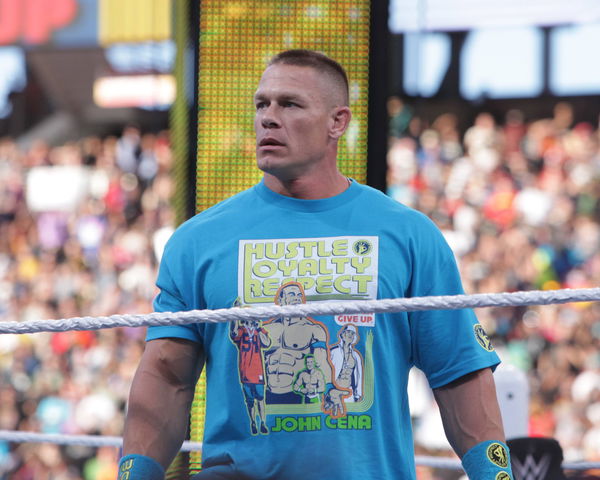 WWE has had several champions come and go, but there's something different about Austin Theory. The current United States Champion had a hard time getting over initially but now has slowly found his footing. Moreover, there has been news for quite some time that Theory is looking forward to going up against the all-time fan-favorite, John Cena.
The rumored match between Cena and Theory at the upcoming WrestleMania 3 isn't official yet, but with the 16-time world champion set to appear on RAW next week, this program could kick off. 
Theory prepares for John Cena
ADVERTISEMENT
Article continues below this ad
Theory recently took to Twitter and shared his workout session, while also sending a warning to The Doctor of Thuganomics for the upcoming episode of RAW.
"Work before The Main Event," tweeted Theory while uploading a compilation of his training session. Fans can see that the young wrestler sees the 45-year-old as no joke. The wrestler is training tough to give Cena a hard time on Monday night Raw.
However, what makes the fight even more mysterious is that Cena has shared no such training videos on his social media. The confidence that The Prototype holds is immensely intimidating. Perhaps that's why Theory felt the need to upload a compilation, to fight back psychologically. Whether it will work on Cena is another question. However, the 25-year-old's trash talk is sure to give something to talk about on RAW.
ADVERTISEMENT
Article continues below this ad
The Unproven One's ultimate call out to John Cena
Two weeks prior, WWE shared a video of the young wrestler talking about Cena's return. He did a great job by calling out the legend. The ring from which Cena rose, Austin Theory, tells him how he will defeat him in the very same ring. The WWE United States Champion's confidence was soaring through the sky as he mentions how he waits to give Cena a "warm welcome".
ADVERTISEMENT
Article continues below this ad
"Things are a little different around here now," adds Theory while tapping on his title belt. So this week on RAW things will get interesting and we may see the match between Theory and Cena being made official at least in some capacity.
Watch this story:- Bodybuilding Legend Arnold Schwarzenegger's rival Sylvester Stallone's Transformation Comparison With WWE Superstar John Cena
Edited By: Sherjeel Malik