Randy Orton trades Jab with AEW Superstar
Published 08/14/2020, 8:15 AM EDT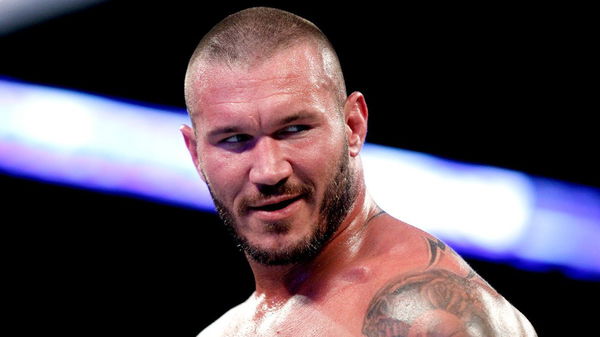 ---
---
The WWE vs AEW war continues on social media today as the more trash talk ensued on Instagram. The feud had been field mostly by fans but it gets really exciting when Superstars themselves get involved. This time, Randy Orton personally took a shot at Matt Jackson of AEW.
ADVERTISEMENT
Article continues below this ad
Matt Jackson is part of the tag team "The Young Bucks" with Nick Jackson. The two have done a good job pulling off some pretty risky moves. In a post on Instagram, Jackson shared a video of what could have been a major botch in one particular fight.
ADVERTISEMENT
Article continues below this ad
In the fight as seen in the video, Jackson jumped off an elevated platform to hit the opponents with a backflip. He only just managed to breeze over the top of their heads, however, and landed perfectly on his feet. 
The impact was thankfully enough for the three Superstars to sell but you can just imagine how close it would have been to total waste. Highlighting this moment, Jackson shared the post on Instagram.
Unexpectedly replying to the post was none other than WWE Superstar Randy Orton. "The Viper" took a shot at Jackson by criticizing the move. 
"Sweet landing…..but you didn't hit anybody. Tell Cody, Goldust, Harper, Swags, Y2J, Hardy, Ryder, Spears, Ambrose, Arn, Milenko, Gunn, and most importantly FTR "👋🏽" for me," commented Orton.
Randy Orton fired shots at those who left WWE
In the list of Superstars Randy named, almost all of them worked with WWE before joining AEW. Matt Hardy, Chris Jericho, and Dean Ambrose all had major roles in the company before leaving. 
This was not only a shot at Jackson's faulty attempt but also at AEW's recruitment style, as they have been signing a lot of WWE's former Superstars lately.
Matt Jackson probably took it as a joke and replied to Orton's comment later.
ADVERTISEMENT
Article continues below this ad

The war is sometimes hilarious to watch because the Superstars don't break character. It's like seeing a great crossover episode where the Superstars of both companies indulge in verbal SmackDowns.
ADVERTISEMENT
Article continues below this ad
Chris Jericho for one never turns down the opportunity to fire shots as WWE, but that's Y2J for you. We can only expect more Social media wars as AEW grows bigger. For now, "The Viper" has struck the last blow.