Is Brock Lesnar Joining AEW?
Published 12/03/2020, 1:00 PM EST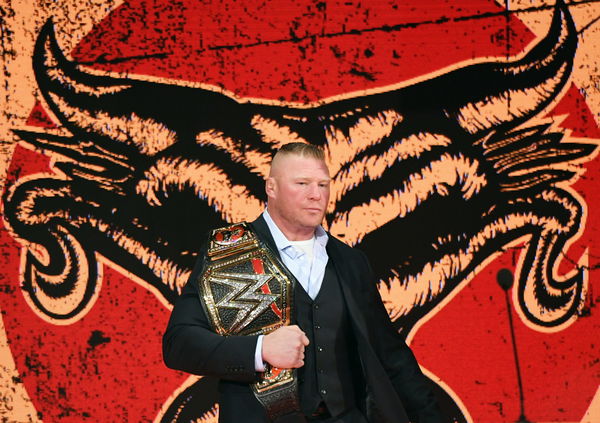 ---
---
Three weeks ago, Tony Khan promised a power shift in AEW. Fans expected a big debut of a former WWE superstar, but instead, we saw the return of PAC to American soil. This week's Dynamite saw the electrifying debut of none other than Sting, which seems like the power shift Tony Khan promised. Another former WWE superstar that has reportedly been on AEW's radar is free agent, Brock Lesnar.
ADVERTISEMENT
Article continues below this ad
AEW can easily afford free agent Brock Lesnar
ADVERTISEMENT
Article continues below this ad
AEW signing The Beast Incarnate would be both good news and bad. The former WWE Champion is regarded as the biggest draw in professional wrestling and was paid handsomely by WWE for his services. At $12 million a year, he is the highest paid WWE superstar.
Tony Khan has an incredible net worth of $7 billion. He can more than afford to pay Brock Lesnar's fees to make a handful of appearances and wrestle four matches a year. In WWE, Brock earned a lot more than full-time WWE superstars like Roman Reigns and Seth Rollins.
If Lesnar signs with AEW, he will obviously command a higher salary than even Executive Vice President Cody Rhodes, AEW Champion Kenny Omega, and both the Jackson brothers combined. This would not sit well with the AEW roster and will be a reflection of the pull Lesnar has over his employers.
AEW is built off the backs of independent stars
AEW is a company that prides itself on its treatment of 'homegrown stars'. They are obviously referring to talents that were scouted on the independent scene.
These include names like MJF, Will Hobbs, Lee Johnson, and tag teams like Private Party and Top Flight. AEW would be violating the fundamental premise that separates them from the competition if they sign Brock Lesnar.
However, the signing of Sting and names like DDP, Billy Gunn and Jake Roberts have proven that AEW will dip into the ex-WWE pool to salvage some big names. These Superstars are established veterans of the industry and have even held the top prize in WWE and WCW. If AEW can use them to generate hype for the company, why won't they sign the biggest draw in wrestling?
ADVERTISEMENT
Article continues below this ad
Will Brock Lesnar be inclined to joining AEW?
During this discussion, we have left the most important detail for last: Brock Lesnar's mood. Lesnar's career motto has always been- Brock Lesnar does what Brock Lesnar wants to do. Lesnar goes where Lesnar wants to go. If he wants to return to the UFC, they would shell out a huge amount to sign him. WWE might be interested in booking the Beast for WrestleMania, and if the price is right, Lesnar will be there.
ADVERTISEMENT
Article continues below this ad
Will AEW benefit from Lesnar? Of course they would, but do they absolutely need him? No, they do not. If AEW focuses on building the talent that they spent an entire year scouting, they will create stars that will rival the star power of a John Cena or a Stone Cold Steve Austin. Tony Khan might have deep pockets, but the Beast isn't a purchase that AEW needs to make.