"I Hope That It Won't Hurt Her,"- Miro Predicts Mistreatment of Lana in WWE
Published 09/15/2020, 9:44 AM EDT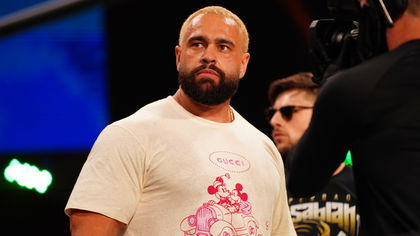 ---
---
Following the latest episode of Monday Night Raw, a dark side of WWE was exposed. In an obvious retaliation to Superstar Miro and his shots at WWE, Lana was absolutely battered in her fight.
ADVERTISEMENT
Article continues below this ad
It seems as though Miro predicted this earlier before the show aired. In an interview with Busted Open Radio, the former WWE Superstar hoped that WWE would leave Lana out of the altercation.
ADVERTISEMENT
Article continues below this ad
"Absolutely. At the same time, they should be professional and treat it as it is. It's nothing personal; it's a business," explained Miro. "Hopefully, they treat it like that. I hope that it won't hurt her. I pray everything will be fine, and we should move on."
Miro, known to WWE fans as Rusev, joined AEW and heel-red them reach the 1 million mark in viewership. On his debut, he did not refrain from taking shots at WWE.
The former WWE United States Champion called AEW the best wrestling promotion there is. He also openly mocked WWE with his "Brass Ring" promo.
WWE made Miro pay for his remarks
WWE did not take kindly to these insults and made Miro pay with interest. 
In her tag team match against Ruby Riott and Liv Morgan, Lana was defeated by pinfall. To add insult to injury, she was also attacked by Shayna Baszler and Nia Jax. The latter even sent Lana through a commentary table!
It was obvious that this was all a ploy to get back at Miro. Lana had to pay for the words of her husband, which absolutely disgusted a lot of fans. Analyst Vince Russo blasted Vince Mcmahon for this act.
ADVERTISEMENT
Article continues below this ad
WWE has been turning a deaf ear to the many AEW shots coming it's way. For the most part, the company has not retaliated. However, Miro was shown the teeth of WWE last night. He could only watch as his wife got thrown everywhere.
ADVERTISEMENT
Article continues below this ad
As for Lana, she may want to reconsider staying at WWE, given the fact that she was so badly treated. We are yet to hear from the Superstar, and if she will be continuing her partnership with Natalya.