AEW Superstar Impressed With Big E's Sensational Promo on WWE SmackDown
Published 01/03/2021, 12:59 AM EST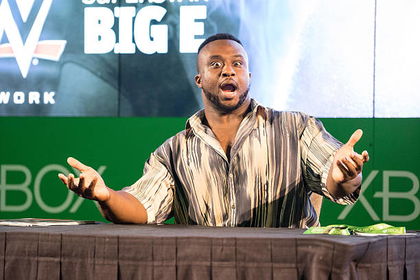 ---
---
WWE Intercontinental Champion Big E has grabbed the attention of wrestlers outside WWE. His intense promo on Sami Zayn after beating him for the Intercontinental Championship has caught the attention of one Chuck Taylor. AEW's Chuckie T took to Twitter to praise the WWE Superstar for his sensational promo.
ADVERTISEMENT
Article continues below this ad
Chuck Taylor loved Big E's promo
Taylor referred to Big E and Sami Zayn as Big E Langston and El Generico. Prior to forming the New Day with Xavier Woods and Kofi Kingston, Big E was the muscular henchman of Dolph Ziggler. He debuted with the name Big E Langston. El Generico was Sami Zayn's wrestling name on the independent scene.
ADVERTISEMENT
Article continues below this ad
During the promo, Big E sported a hard hat, the likes of which you find at Home Depot. He implored Alyse Ashton to ask him about the hard hat, to which he answered, "Cause I went to work out there Alyse! I went to work on the boy Sami Zayn and I did what I had to do, to become your Intercontinental Champion for the second time."
Big E went a little too far in explaining how exactly he went to work on Sami Zayn's behind. "This is where we gotta renovate the boy's behind!" yelled the new Intercontinental Champion.
He went even further to describe the property he constructed on Zayn's behind. It included a condo, a row of houses, a community pool, an area for picnics, some sky rises, and plans to construct a Civic Center and an airport as well.
Big E is now a two-time Intercontinental Champion
ADVERTISEMENT
Article continues below this ad
Sami Zayn was a decent Intercontinental Champion. His matches against Daniel Bryan, Jeff Hardy, Apollo Crews and even Big E were quite good. They all ended in count outs with Zayn cheating to win every time. This time, Zayn's luck ended as he met the formidable former New Day member.
Zayn looked a lot more impressive in this defence than in most of his previous matches. A Lumberjack match was chosen as the stipulation for the match, given Zayn's history of fleeing.
The former champion pulled out a stunning sunset flip powerbomb and a Tope Con Hilo, but neither could put away the challenger.
ADVERTISEMENT
Article continues below this ad
It all ended once Zayn tried to run, but the lumberjacks, led by Apollo Crews, caught up to him and threw him into the ring. The challenger unleashed a flurry of offence on the champion, and one Big Ending later, we had a new Intercontinental Champion.