AJ Styles Explains Why the Match With John Cena Is the Best Match of His WWE Career
Published 01/18/2021, 6:45 AM EST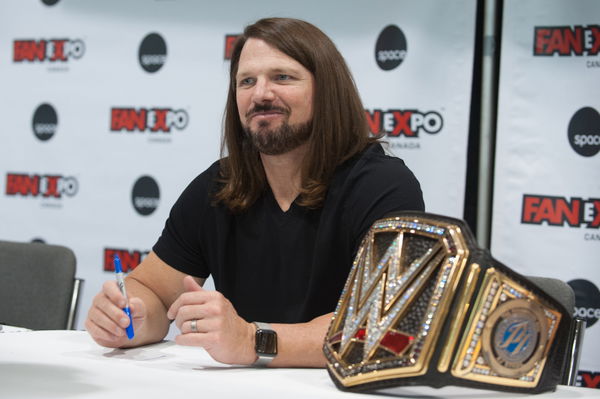 ---
---
AJ Styles made his phenomenal WWE debut at the 2016 Royal Rumble match. Exactly one year later, he was defending the WWE Championship at the same PPV against John Cena.
ADVERTISEMENT
Article continues below this ad
Styles recently appeared on WWE's The Bump, where he revealed a very interesting fact about the iconic clash that few know about.
AJ Styles reveals an interesting fact about his 2017 classic against John Cena
ADVERTISEMENT
Article continues below this ad
AJ Styles won the WWE Championship from Dean Ambrose at Backlash 2016. He became the No. 1 Contender for the championship after he knocked off John Cena in a SummerSlam classic.
Styles and Cena would reignite their feud at the 2017 Royal Rumble, as John was gunning for his sixteenth World Championship victory.
This match was an absolute masterpiece and came painfully close to being absolutely perfect. Dave Meltzer rated this match 4.75 stars, just 1/4th of a star shy of becoming the first main roster match to get the full five stars since Cena vs Punk at Money in the Bank 2011.
An important detail about this match was that for the entire duration of the match, Cena and Styles never left the ring. Their classic was almost thirty minutes long and was wrestled at a breakneck speed. Despite that, neither men left the proximity of the ropes.
"A lot of people don't know this, but we never left the ring in this match. We never went outside of the ring; it was all in the ring, which is not really heard of these days. I'm really proud of that match."
Styles should be proud of the match with Cena. Even though he lost, he came out of it looking like one of the best wrestlers in the world.
Styles reflects on Edge's return in the 2020 Royal Rumble
ADVERTISEMENT
Article continues below this ad
If the pop AJ Styles received on his debut was huge, it was blown out of the water by Edge's return. Sixty thousand fans screamed at the top of their lungs when they heard the iconic 'You think you know me' play on the speakers. From the crowd's reaction to the pyrotechnics to the in-ring moments, Edge's return was fantastic.
The Rated-R Superstar also had a fantastic altercation with AJ Styles in the Rumble match.
"Standing in that ring and waiting for him to make his entrance was pretty unbelievable. Knowing the moment we were going to have, I was excited. I wish I hadn't separated my shoulder. But if anyone was going to do it, I was glad Edge helped me with it."
ADVERTISEMENT
Article continues below this ad
Edge speared Styles so hard that he over-rotated while selling the move and landed hard on his shoulder. Had it not been for that unfortunate injury, Styles vs Edge in the Rumble would have been an amazing mini match.