"Give Me Triple H"- AJ Styles Sets His Eyes on a Dream WrestleMania Showdown
Published 12/20/2020, 9:18 PM EST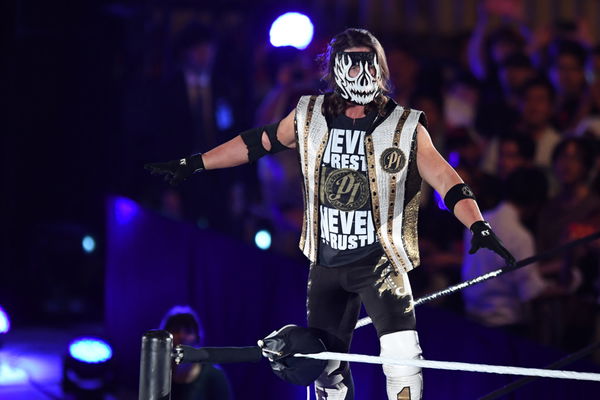 ---
---
The Phenomenal One, AJ Styles, has expressed his desire to face two of WWE's biggest superstars at WrestleMania. With WrestleMania 37 on the horizon, WWE could put his desires into motion. In an interview with Inside the Ropes, Styles listed Edge and Triple H as two icons he would love to face at WrestleMania.
ADVERTISEMENT
Article continues below this ad
Styles wants Edge or Triple H at WrestleMania
"Well, if it can't be Drew McIntyre, then give me Edge." Fans would definitely not mind seeing Drew McIntyre and AJ Styles killing it at WrestleMania. However, Edge vs AJ Styles has a much more dream match feel. Given Edge's physical condition, the match should take place as soon as possible.
ADVERTISEMENT
Article continues below this ad
"There's a number of guys that are willing to step up, and it can be any one of those. I want, I'm telling you, I want Edge. I don't know if you'll remember what happened to me at the Royal Rumble, he separated my shoulder with that Spear, so it's time to get some payback."
"If it can't be Edge, give me Triple H." Triple H vs AJ Styles would be another potential WrestleMania match that would sell out the entire arena. Styles and Triple H teamed up once in Japan to take on the super team of Baron Corbin, Samoa Joe, Bobby Lashley, and Drew McIntyre. The Cerebral Assassin vs the Phenomenal One would be a show-stealer.
AJ Styles' dream matches
When AJ Styles signed with WWE in 2016, fans rattled off a list of names that Styles should face. In his first year, Styles faced some of the biggest names in wrestling. In his debut, AJ Styles defeated Chris Jericho. He and Jericho would have a feud that would last till WrestleMania 32.
ADVERTISEMENT
Article continues below this ad
Styles became Roman Reigns' first challenger once he won the WWE Championship. Styles came very close at Payback, but their match at Extreme Rules was an instant classic. The loss to Roman Reigns sparked a heel turn and a rivalry with the GOAT of WWE. John Cena returned to face AJ Styles at Money in the Bank and SummerSlam but lost both matches to the Phenomenal One.
Styles would win the WWE Championship in his first year. He would lose it to John Cena at the Royal Rumble, but would move on to an exciting program with Shane McMahon. He would also face Brock Lesnar at Survivor Series in a champion vs champion dream match. Styles would even face his NJPW rival Shinsuke Nakamura at WrestleMania.
ADVERTISEMENT
Article continues below this ad
Names like Samoa Joe, Randy Orton, Matt Riddle, Daniel Bryan, and The Undertaker round off AJ Styles' dream matches in WWE. However, fans should sincerely hope to see Edge vs AJ Styles before the former goes back into retirement.