Aleister Black Reveals the Pitch to Appear in Undertaker vs AJ Styles' WrestleMania Match
Published 06/09/2021, 7:45 AM EDT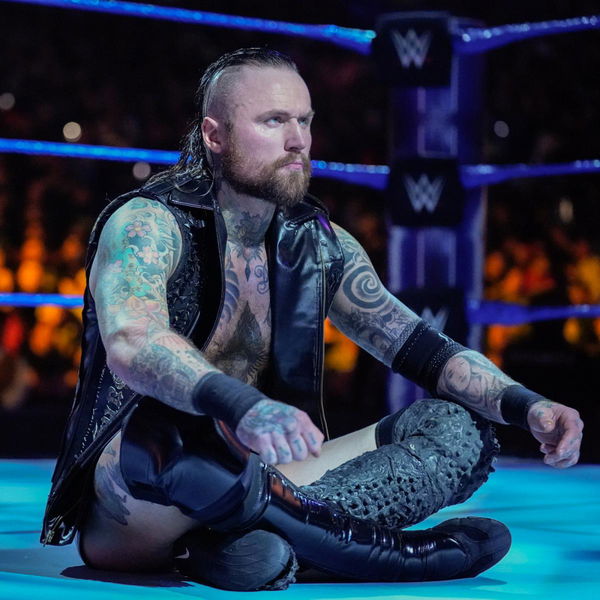 ---
---
Some could say Aleister Black was one of the unluckiest wrestlers on the planet. He entered the WWE with a ton of momentum and his NXT run was nothing but fruitful. However, the main roster chewed him up and spat him out. Despite his bad luck, Black revealed WWE wanted to put him in a very high-profile match for WrestleMania.
ADVERTISEMENT
Article continues below this ad
Aleister Black almost made in into a high-profile WrestleMania match
ADVERTISEMENT
Article continues below this ad
In the run-up to WrestleMania 36, Aleister Black feuded with former WWE Champion AJ Styles, who was at his heel best. A match between Styles and Black would've stolen any show, but the involvement of a certain legend made it much more interesting. That legend is none other than the Undertaker.
Unfortunately for Black, Styles and Taker had a ripper of a match at WrestleMania, one that redefined the wrestling business. On Oral Sessions with Renee Paquette, Black revealed a unique pitch which would've put him in the brilliant Boneyard Match.
"One of the cool pitches for me was that for a moment when I had the match with AJ [Styles], one of the things that leading up to WrestleMania was that during the end of my match with AJ [at Elimination Chamber 2020], you know, Undertaker appeared and helped me, saved me, stopped the beat down that The Good Brothers gave me." (H/T Post Wrestling)
"One of the pitches was that at WrestleMania, it was gonna be the other way around so it was AJ and Taker and one of the pitches was towards the end of that match, The Good Brothers would come out or something to that extent and I would be the one to help Taker and I always thought — the fact that they even considered that was like wow, you know what I mean? It was very cool."
Watch this Story: WWE Superstars Who Quit on Live TV
What was his WrestleMania moment?
ADVERTISEMENT
Article continues below this ad
While it might seem like Black lucked out of a huge WrestleMania match, he did get his WrestleMania moment. On Night 2 of WrestleMania 36, Black defeated a man who would become WWE Champion a year later.
Black's match against Bobby Lashley wasn't a show-stealing bout, and we didn't expect it to be one either. However, his win over a wrestling veteran pushed him up the card, and his subsequent rivalry with Seth Rollins almost pushed him into the main event scene.
ADVERTISEMENT
Article continues below this ad
In his WWE career, Black has wrestled in two WrestleMania's. We often forget about his performance at WrestleMania 35, where he and Ricochet took the SmackDown Tag Team division by storm, but couldn't win the titles that night.