"Do Not Say His Name!"- Alexa Bliss Creeps Out Asuka Before Their Match on WWE Raw
Published 01/18/2021, 9:38 PM EST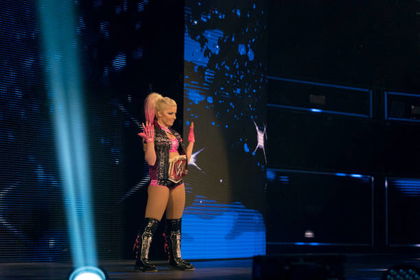 ---
---
WWE Raw Women's Champion Asuka appeared on Alexa Bliss' Playground. This promised to a creepy and intense segment, and it surely delivered on that. Bliss was in her usual psychotic element, while Asuka was busy trying to lighten the mood. Also, Bliss declared some tremendous news on the show that might just bring the house down at the Royal Rumble.
ADVERTISEMENT
Article continues below this ad
Alexa Bliss declares for the 2021 Royal Rumble
ADVERTISEMENT
Article continues below this ad
For the third time in her career, Alexa Bliss will enter the Royal Rumble match. She is not a Rumble match veteran, but can hold her own against the 29 other women entering the match. Bliss announced this news during her Playground segment with Asuka and even hinted that she will challenge Asuka for the title if she wins the Rumble.
If Alexa wins the Rumble match, it will undoubtedly raise some objection in the internet wrestling community. WWE has used Bliss as a prop in the Fiend's mind games against his various opponents, but it is exciting to see her getting to go on a run of her own.
Alexa creeps out Asuka on WWE Raw
ADVERTISEMENT
Article continues below this ad
Prior to their match, Bliss invited Asuka to her Playground. The Champion gladly accepted her invitation and seemed much too happy to be Bliss' guest. Backstage, Alyse Ashton interviewed Asuka before walking out to the ring where she said that she hoped he wouldn't see Alexa's dark side.
Asuka angered Bliss frequently. First, she almost sat on the second swing that was supposedly reserved for someone else, maybe the ghost of the Fiend. Second, hoping to lighten the mood, Asuka said 'Yowie, Wowie', which angered Bliss further. Third, she asked Bliss directly if the Fiend was still there, before finally dancing to her own music in front of Bliss.
ADVERTISEMENT
Article continues below this ad
This was the most bizarre segment of the year, and we're still in January, and Randy Orton debuted a mask! WWE Raw really needs to invest in better storylines and focus on wrestling more than this hokum. In the attempts at maintaining the sports entertainment quotient, WWE is severely missing the mark in terms of quality storytelling and good wrestling.