Alexa Bliss Hypnotizes WWE Superstar Reginald in a Bizarre Segment on Raw
Published 06/15/2021, 1:57 AM EDT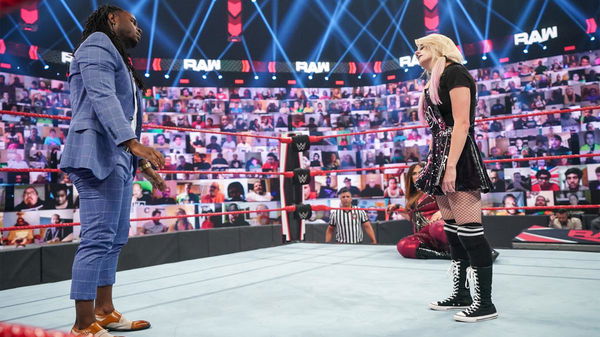 ---
---
WWE Raw once again featured Alexa Bliss in a very prominent role. Her spooky gimmick has impressed many, and she picked up a fairly big win on Raw. She took on her former friend Nia Jax in a WrestleMania 34 rematch, which featured one too many spooky and bizarre moments.
ADVERTISEMENT
Article continues below this ad
Alexa Bliss puts Reginald in a trance
ADVERTISEMENT
Article continues below this ad
As expected, Bliss' match with Nia Jax saw the larger opponent dominate for most of the duration. Bliss had a few moments of offence and a few flurries, but Jax's power overcame her. Fortunately for Bliss, she had an ace up her sleeve that allowed her to get the better of Nia.
Bliss did Bray Wyatt's spider walk, which freaked out her opponent. After that, the psychological advantage went to Bliss. The former Raw Women's Champion even channeled her inner Undertaker and sat up like him, but in a cross-legged position.
Having taken the fight to her opponent, Bliss hit a DDT and looked to hit Twisted Bliss for the win, only for Reginald to interfere. Having his face almost burned off a bunch of times from Alexa wasn't enough, and he tested her anger once again. However, Alexa went in another direction to make Reginald suffer.
After the bell rang, Alexa glared at Reginald, who slowly locked eyes with Bliss. As Bliss tilted her head, Reginald tilted his, showing that Alexa had hypnotized or put him in a trance. As Bliss left the ring, the 'spell' broke and he snapped out of the trance.
Is Alexa getting a singles run?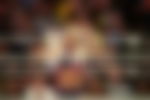 With the progression of her storylines with the Raw Women's Division, all signs point towards a singles run for Alexa Bliss. She's already faced and dominated Asuka when she held the Raw Women's Championship. She took down Randy Orton and Bray Wyatt, and her goal now is to regain the title she hasn't held in ages.
ADVERTISEMENT
Article continues below this ad
At Hell in a Cell, Bliss will most likely challenge Shayna Baszler to a singles match. The former UFC fighter had a rough night last week with Bliss and Lilly's antics. At Hell in a Cell, she will look to put this Bliss chapter in her rear-view mirror her as fast as she can.
If WWE put the title on Bliss, it'll be a questionable move. However, it'll show that the company has faith in her abilities as a performer and character.
ADVERTISEMENT
Article continues below this ad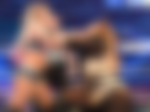 Trending Stories