Association With The Undertaker's Brother Kane Gave Legendary Wrestler a Spot on WWE's Super Bowl "WrestleMania"
Published 03/13/2022, 10:30 AM EDT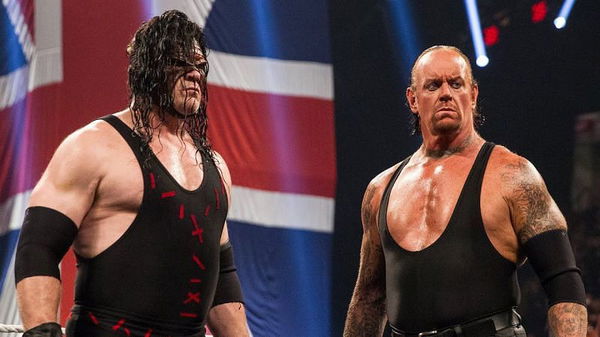 The Undertaker has impacted many careers in WWE. He always helped young upcoming WWE stars to rise in WWE. One of the major careers The Undertaker helped rise is his on-screen half-brother Kane. 
ADVERTISEMENT
Article continues below this ad
Kane would have been stuck in his previous gimmicks if The Undertaker would not have come forward to help him. Kane, also in his later career, helped many WWE superstars climb up the success ladder. Daniel Bryan got the most momentum after his tag team run with Kane as Team Hell No.
ADVERTISEMENT
Article continues below this ad
Recently appearing on the Metro.co.uk, current AEW superstar Bryan Danielson, who is known as Daniel Bryan in WWE, spoke about his WWE rise. He talked about how he was benefited from his run as Team Hell No with Kane.
Bryan said. "I think that period was actually the making of Daniel Bryan, as far as a WrestleMania main eventer. That period was perfect for me, because it gave me a chance to show some character and be entertaining all that kind of stuff."
Daniel Bryan had many significant moments with The Undertaker's half-brother Kane. He also shared the time they faced The Shield, where he showed more potential as a main eventer.
Bryan added, "But then, we would go in the ring against The Shield, it would allow me to highlights some of my strengths – in those tag matches, just being a ball of fire and then burn to the ground essentially."
Daniel Bryan was already a star in the independent circuit. Some fans didn't like how WWE was using Bryan. Still, Bryan took this as a challenge and went against all odds to become the best in WWE, too. 
Currently, Daniel Bryan is wrestling in AEW and will also have some matches in AEW's new acquisition Ring of Honor, where it all started for Bryan.
Watch this story:- Top WWE & AEW news of the Week
Team Hell No once teamed with The Undertaker
ADVERTISEMENT
Article continues below this ad
Team Hell No was too over the fans around the years 2012-2013. Keeping all differences aside, they had agreed with each other. The Shield was also hot with the fans during the same years.
On 8th April 2013 episode of RAW when The Undertaker came out in the ring, The Shield tried to sneak and attack The Phenom. Bryan and Kane came to save The Undertaker. Later that month, on 22nd April 2013, episode of RAW Team Hell No and The Undertaker vs The Shield took place. 
ADVERTISEMENT
Article continues below this ad
The Shield won the match. This was a short-lived feud that gave the Brothers of Destruction a reunion along with a third partner, Daniel Bryan.