"Asuka Didn't Know"- WWE Legend Was Surprised With Becky Lynch's Announcement
Published 05/17/2020, 7:14 AM EDT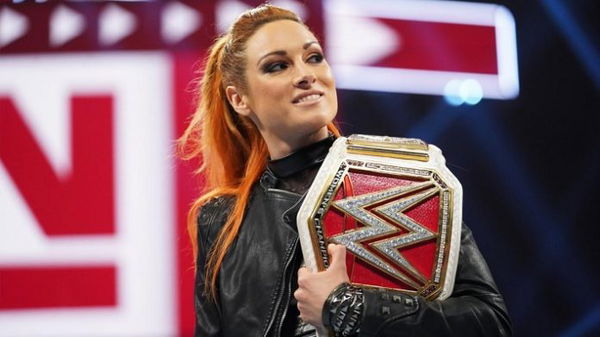 ---
---
WWE Superstar Becky 'The Man' Lynch shook the world with her pregnancy announcement on Monday night's RAW. She announced in the ring that she was pregnant and that she was going to relinquish her RAW Women's Championship to Asuka, who had won it in the previous night's Money In The Bank ladder match. It was recently revealed in an interview that the announcement was a surprise to everybody who was backstage.
ADVERTISEMENT
Article continues below this ad
WWE Superstar and producer D-Von Dudley revealed that the Superstar's backstage had no idea what was about to happen. None of them had heard of the news that 'The Man' was pregnant. All the personnel, staff, and performers waiting backstage were watching the promo just like the audience at home. "We were watching the segment just like everyone else was at home," said Dudley, speaking about the time when Becky made her announcement.
Becky Lynch surprises the world
ADVERTISEMENT
Article continues below this ad
Dudley stated that Asuka, who was in the ring with Becky at the time, also had no idea about the announcement. Asuka had initially stormed into the ring in anger as her MITB briefcase was taken away from her. When Lynch disclosed her pregnancy, even Asuka was taken aback. 
"And, if I'm not mistaken, I believe you know, in the same thing, Asuka didn't know. So, the reaction that she gave was extremely genuine and natural."
Asuka gave an extremely heartfelt reaction to the surprise news and still managed not to break her character, a genuine display of emotion and professionalism at the same time.
ADVERTISEMENT
Article continues below this ad
Dudley also gave us a sneak peek into the reactions of other Superstars who were watching from backstage. 
"When she did say, you know, 'You're gonna go off to be WWE Women's Champion now and I'm going to go off to be a mother,' everybody in the room just went, 'What??' I mean, Nia, Lana, you know, Tamina."
There were rumors and speculations about the pregnancy announcement, but nothing concrete or official. The decision to not reveal the news to the performers backstage was undoubtedly a good one. The revelation and the reactions following it brought out the best from the Superstars, seeing a rare mix of genuine appreciation between competitors while keeping kayfabe intact at the same time. 
ADVERTISEMENT
Article continues below this ad