Asuka Makes Shocking Return to WWE Raw Amid Concussion Rumors
Published 03/16/2021, 12:51 AM EDT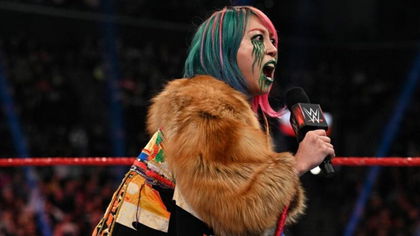 ---
---
WWE Raw Women's Champion Asuka made her surprise return on Monday Night Raw this week. The 'Empress of Tomorrow' didn't waste any time, and went right after Shayna Baszler, the woman who put her on the sidelines for three weeks!
ADVERTISEMENT
Article continues below this ad
Asuka returns to Raw, unleashes her wrath on Shayna Baszler
Shayna Baszler and Nia Jax joined commentary for the Naomi and Lana versus Dana Brooke and Mandy Rose match. During the match, the WWE Raw Women's Champion made her surprising return from injury, leaving Baszler furious!
ADVERTISEMENT
Article continues below this ad
Asuka's return did not please the 'Queen of Spades.' She got up and quickly went to confront Asuka on the ramp.
The Raw Women's Champion made quick work of Baszler as she threw her on the barricade. Asuka looked to do more damage, but WWE officials broke it up. It was evident that she is out for retribution following Baszler's actions three weeks ago on Raw.
Despite the surprise attack, Asuka wasn't done with Baszler. The two faced off in a one-on-one match later in the night. Shayna Baszler had the kirifuda clutch locked on the champion, but she rolled over to steal a pinfall victory. However, Shayna didn't loosen her grip.
Shayna went to kick Asuka's head again, but the champ ducked and took Baszler down. She then followed it up with a vicious knee strike right in the face. The 'Empress of Tomorrow' wasn't done there, as she unleashed her wrath on Shayna, kicking the latter's head on the turnbuckle.
The vicious beat-down didn't end here. Asuka removed Shayna Baszler's mouthguard and shoved the ring ropes into her teeth and jaw. She then exposed the turnbuckle, shoved her mouth in it, and then went to stomp her face first. Thankfully, the referee intervened and saved Shayna Baszler from losing her teeth and also from having a disfigured face.
Is this the 'Empress' we've all been waiting for?
The WWE Universe has always complained about Asuka's booking on the main roster. Everyone has felt that the 'Empress' isn't booked the same dominant way on the main roster like she was in NXT.
Her actions today gave us flashbacks of the Asuka no one was ready for. And honestly, if this is going to be her attitude going forward, then we're all in!
ADVERTISEMENT
Article continues below this ad
We've discussed before how Asuka has been lost in the shuffle, but this comeback can prove to be a blessing in disguise. There were rumors of her suffering from a concussion were doing rounds. However, her return last night proved all those rumors wrong.
There's no doubt that Asuka is a class character to have on TV, but we must not forget that she is an absolute beast in the ring. Her viciousness adds more depth to her character and legitimately makes her look like a dominant champion.
Did you like Asuka bringing back the aggression from her NXT days? Let us know in the comments below!
ADVERTISEMENT
Article continues below this ad