WATCH: The Miz and John Morrison Drop a Hilarious Album to Mock Braun Strowman
Published 06/15/2020, 3:25 AM EDT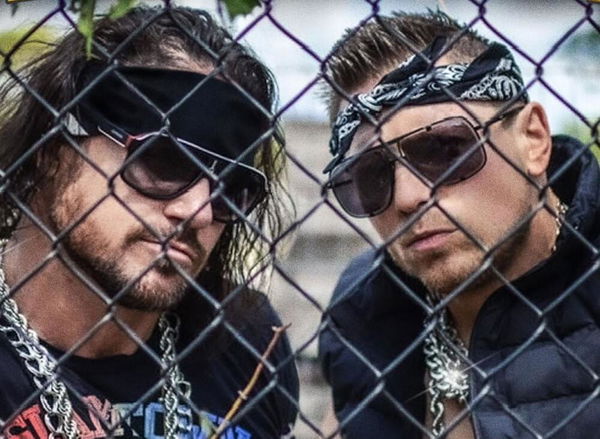 ---
---
The Miz and John Morrison have had a staggering run in the WWE since they re-joined forces together after 11 years. The duo challenged Braun Strowman at the May 22nd edition of SmackDown.
ADVERTISEMENT
Article continues below this ad
Miz and Morrison came together with their same brash attitude, the famous Dirt Sheet show, and another 50-day title reign. The duo took on Strowman for the Universal Championship at Backlash in a one of a kind stipulated match i.e. a 2 on 1 handicap match.
A rare occurrence for sure, however, the promotion has seen a number of stars performing in this format. For instance, the bout for the WWE Championship where Kane and Christian took on The Rock back in September 2000.
ADVERTISEMENT
Article continues below this ad
Miz and Morrison were well aware that going toe to toe against the monster among men Braun Strowman would yield no results. Therefore they needed to approach things differently.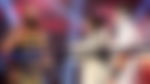 Miz and Morrison decided to rely on their pranks and tricks as a form of psychological warfare. Chucking slime on the Universal Champion which ended up on Kayla Braxton instead.
Filling his protein bottle with materials that fizz out and damaging the windscreen of the Universal Champion's car. Miz and Morrison tried it all, but that wasn't it.

ALSO READ– Watch: WWE Champion Braun Strowman Showcases Inhumane Strength on SmackDown
At Backlash Miz and Morrison made their signature entrance together. The duo played their final hand to try and get into the champion's head while everyone was eagerly awaiting his arrival.
The team played their composed song "Hey Hey", which was broadcasted on the WWE Network show The Bump. They did this in a bid to mock Strowman.
The song took shots at Braun Strowman's beard smelling like cheese, of nobody liking him, and how Smackdown needed a new champion.
Braun Strowman Reigns Supreme
The match was a predictable one with Miz and Morrison trying to play the numbers game on Strowman. The dramatic moment of the match came The Miz pulled John Morrison out as he was covering Braun Strowman after a well-executed highflying move combined with Miz's Skull Crushing Finale.
Making the best of this situation, Strowman took advantage of Miz's selfish antics. He vanquished the duo with a running power slam and pinning Morrison to retain the title.
ADVERTISEMENT
Article continues below this ad
What's Next?
This rivalry resembled a comic gig rather than an intense rivalry that we often witness in the WWE Universe for hallowed straps like the Universal championship or WWE championship.
ADVERTISEMENT
Article continues below this ad
This rivalry was more of a filler due to the absence of Roman Reigns and Bray Wyatt returning home for the birth of his second child with Superstars like AJ Styles and Daniel Bryan competing for the Intercontinental title.
The rivalry looks like it will come to an end in the near future as The Fiend Bray Wyatt and The Big Dog will be making their return soon enough.