Who Is Sasha Banks' Husband Sarath Ton?
Published 09/16/2020, 10:51 AM EDT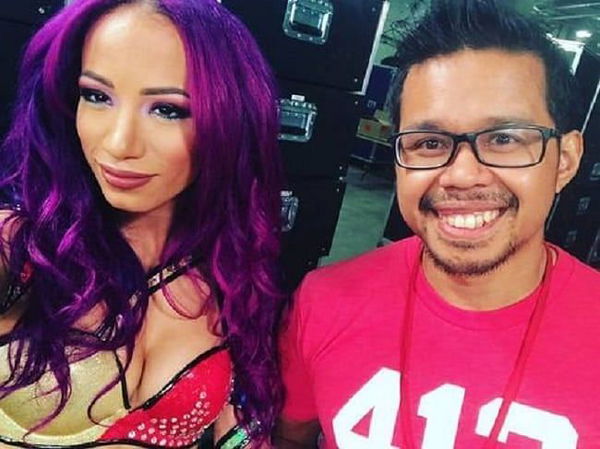 ---
---
Sasha Banks is one of the most popular WWE Superstars out there. She happens to be one of the most beautiful as well and has fans going crazy over her. Unfortunately for them, Banks is already taken and is happily married.
ADVERTISEMENT
Article continues below this ad
Many fans may not know this, but Sasha Banks is the wife of Sarath Ton. He is a backstage employee for WWE and is a master of costume design. He is responsible for the design of a lot of Superstar costumes, and it's fair to say he nails them.
ADVERTISEMENT
Article continues below this ad
Sarath Ton designed action figure costumes as a child before blossoming into another career. Many of you may not know it, but Sarath also had a career as a professional wrestler.
He was known as Kid Mikaze and fought across various promotions. Picking up multiple Championships along the way, Mikaze became a unique wrestler.
He managed to blend Martial Arts with wrestling which set him apart from the daily wrestlers. Mikaze was a joy to witness and specialized in aerial stunts.
He also appeared once on WWE Raw as Rutherford Hayes. He teamed up with William Fillmore against Ryback in a Handicap Squash Match. That was the only time WWE fans got to see his talents.
Tragically, Mikaze was involved in a horrific accident in the ring during an NXT taping, leaving him unconscious. He suffered a bad blow to the head and hasn't wrestled again since then.
Sasha Banks came to Sarath Ton for help with her costume
He is now employed by WWE as a costume designer, putting the other half of his skillset to good use. He designed the famous gear of Paige and Summer Rae among others.
His best creation so far has been Sasha Banks' iconic 'Boss' gear. Unsurprisingly, this is also the way they got closer to each other.
ADVERTISEMENT
Article continues below this ad
"Probably the most lasting relationship I made because of my work is Sasha Banks," said Sarath in a documentary. "I've been making her gear since she first started [wrestling]. Literally, just when I first met her, I knew she needed gear. I let her know, like, 'Hey, I got you.' It's been working out ever since, obviously."
In an interview with Miami Herald, Banks also highlighted this.
ADVERTISEMENT
Article continues below this ad
"I haven't been able to pick out what colors I wanted or scheme," said Banks. "I just had him do it because now he knows what I want. He envisions it. I just tell him, 'I want to look the best, the greatest. Just do your thing,' and he always makes me look amazing."
The two got married on August 4, 2016, and held a private reception. The great news came to WWE fans later. Sasha Banks and Sarath Ton share a strong relationship and look forward to any more years together.