"Best Wrestler in History"- Kurt Angle Shares a Bizarre Verdict on Vince McMahon
Published 05/15/2021, 8:30 AM EDT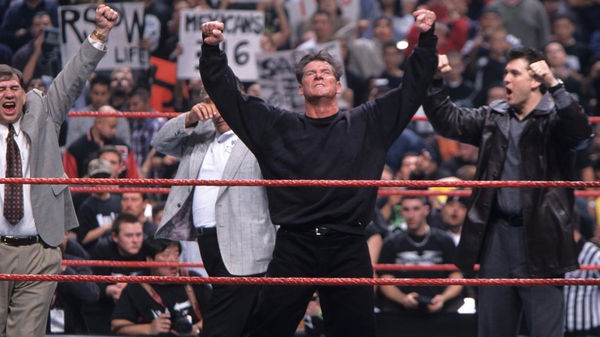 ---
---
Vince McMahon is a man of many talents. He's an extraordinary booker, one of the best commentators, a superb heel, but no one's credited his wrestling. For a man who owns a promotion, McMahon has wrestled multiple matches, including ones at WrestleMania. Despite being a non-wrestler, Kurt Angle gives a bizarre verdict on McMahon' wrestling skills.
ADVERTISEMENT
Article continues below this ad
Kurt Angle heaps praise on Vince McMahon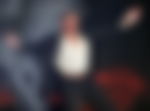 Vince wrestled his first match in WWE on April 13th 1998 against Stone Cold Steve Austin. Despite the match ending in a no contest, it sparked the beginning of one of the best heel runs in the business. As Mr. McMahon, the CEO of the WWE wrestled a plethora of matches against the company's biggest stars.
ADVERTISEMENT
Article continues below this ad
Although he didn't have any technical training, McMahon's matches were full of intrigue and excitement. On the Kurt Angle Show, the former Olympian heaped praise on Vince's wrestling skills.
"What you see on TV with Vince [McMahon] isn't the real Vince. He likes to ham it up a bit and you know, that's his thing. He's the best wrestler in history. In other words, when he wrestles, everybody watches. He does these looks with his eyes when he's going crazy and he's mad." (H/T Fightful Wrestling)
It might shock some modern wrestling fans, but Mr. McMahon faced Kurt Angle in a WWE Title match in December 2000. The match ended in a disappointing no contest, but it at least boosted Vince's wrestling profile in the eyes of one of the greatest wrestlers of all time.
The Boss' wrestling exploits
ADVERTISEMENT
Article continues below this ad
Some could argue McMahon egotistically built WWE's product in the Attitude Era around him. However, that notion is entirely false. Yes, he portrayed an egotistical authority figure who made wrestlers' lives hell, but that was his job. As the biggest heel in the Attitude Era, Vince had to do horrible things to get the a**-kicking he deserves.
McMahon shocked the world by winning the 1999 Royal Rumble, taking his feud with Stone Cold Steve Austin to the next level. Despite winning the Rumble, it wasn't him but Austin who faced The Rock at WrestleMania. Speaking of WrestleMania, Vince has faced the likes of Shane McMahon, Hulk Hogan, HBK and Bret Hart the Show of Shows.
ADVERTISEMENT
Article continues below this ad
In terms of titles, McMahon has held the ECW Championship, which he won from Bobby Lashley in 2007. McMahon also crowned himself the WWE Championship after pinning Triple H on SmackDown in 1999.