Bobby Lashley and MVP Confront Goldberg's Son Gage, Goldberg Makes Them Pay on WWE Raw
Published 08/02/2021, 9:35 PM EDT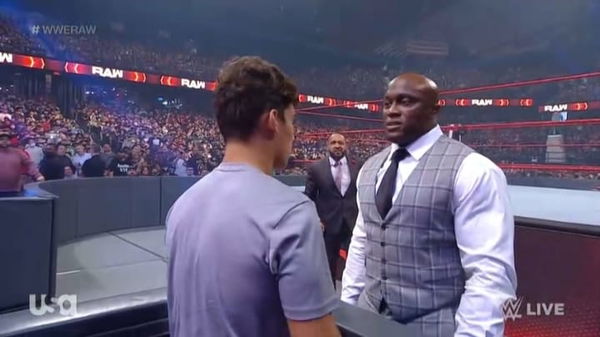 ---
---
This Week's RAW came live from the Allstate Arena in Chicago, and the WWE Champion, Bobby Lashley, along with MVP, opened the show. Bobby is touted to face WWE Hall of Famer Bill Goldberg. Goldberg, who made his return to WWE after the Money in the Bank PPV, has challenged the WWE Champion for a match.
ADVERTISEMENT
Article continues below this ad
But Bobby hasn't yet accepted the challenge as The Almighty in the last episode of RAW stated that he would not even dignify Goldberg's challenge.
ADVERTISEMENT
Article continues below this ad
Goldberg quashes Bobby Lashley with his promo
MVP was the one who started the proceedings as he mocked the Chicago crowd for wanting to see Goldberg. MVP then praised Goldberg for what he has done for the company but then stated that Goldberg is no match for Bobby Lashley.
He then downplayed Goldberg by saying that the former WWE Champion is just a Gladiator, whereas the Almighty is close to being a Kaiju, an unstoppable monster.
Watch this Story- Funniest Entrance Fails in WWE History
MVP threatened Goldberg at one point by stating that Bobby will end his career for good. However, Goldberg had heard enough as his entrance theme started playing.
Goldberg entered the ring as the Chicago crowd gave a tremendous ovation to the former WCW Champion. The WWE Hall of Famer took the microphone and literally destroyed the Almighty with a fierce promo. 
Goldberg pointed out that after listening to that promo of MVP, he knows he is scared. He then looked straight at Bobby, standing close to his face, and said that the champ seems sacred.
The former WWE Champion then went on to say that Bobby's wrong if he thinks he is his next victim. He added that the ring he is standing in isn't his coliseum.
Bill then played with the crowd in attendance by saying that Chicago and the people here can smell fear from far away. Finally, Goldberg added Lashley is scared out of his mind.
MVP got what he deserved
Bill Goldberg's son Gage Goldberg was in attendance today, and he sat next to in the front row of the arena. Bill acknowledged his son before leaving as MVP and Lashley looked upon them.
ADVERTISEMENT
Article continues below this ad
After Goldberg went backstage, MVP and Bobby confronted Bill's son and threatened to destroy his father. Lashley had a short interaction with Gage as he then entered the ring to show off his WWE Championship to the Chicago crowd, who started booing at the champ.
ADVERTISEMENT
Article continues below this ad
MVP, however, was not done with Gage as he trash-talked about Bill to his face and threatened to end his father's career if he faces The Almighty. Goldberg walked back into the arena and speared MVP for messing up with his son as Gage hopped off the barrier and stood close to his father. Goldberg promised to destroy Lashley if he messes up with his son ever again.
 ALSO READ- WWE Legend Kurt Angle Would Love to Win the AEW World Championship