Bobby Lashley Gives His Verdict on Rivalry Between Mark Henry and Lio Rush
Published 05/25/2020, 7:20 PM EDT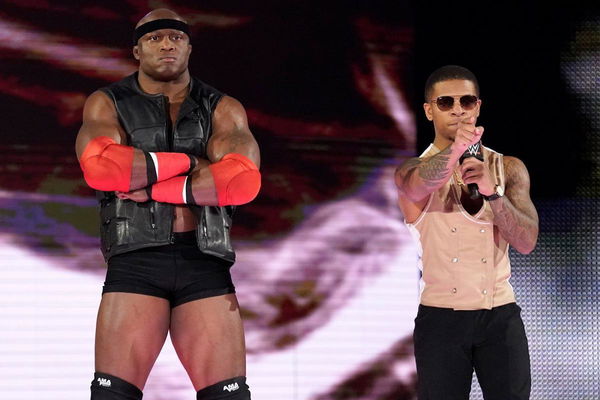 Lio Rush was released from WWE as part of budget cuts due to the COVID-19 pandemic. Rush decided to pursue his musical career but came into the limelight recently because of his allegations against Mark Henry. His friend Bobby Lashley has shared his thoughts on the issue with Alex McCarthy.
ADVERTISEMENT
Article continues below this ad
ADVERTISEMENT
Article continues below this ad
Lio Rush tweeted that Mark Henry ruins the careers of black wrestlers. Following this, a Twitter war ensued between Rush and the Hall of Famer.
Mark Henry had an interview with TMZ, where he issued a warning to Rush. Henry asked him to apologize before his lawyers sue him.
Bobby Lashley On Mark Henry Vs. Rush Situation
Rush, completely unapologetic, posted more Tweets blaming Mark Henry, and now Bobby Lashley has voiced his thoughts on the issue.
"I had a text message before we got on and just put 'laugh out loud' to it. I don't wanna get into it, but It's not like that man, I think in this wrestling business, a lot of tempers arise and different things for not understanding.
"One thing we don't wanna start to do is putting ourselves against each other. That's one thing we always did in the wrestling business is we shook hands when we came in the door.
ADVERTISEMENT
Article continues below this ad
"So I respect you, I respect everyone, and if you could send me an article where I downplayed someone or made them look bad or said something negative send it to me because I don't know that I've ever done that and I never will," said Lashley.
Bobby Lashley clearly doesn't want to be caught in the middle of this storm. He adds that wrestlers are out to entertain the fans and make money. He hopes they get over with this and states Henry has a legacy and Rush is a tremendous talent.
"We're all going out there with one goal, and it's to entertain the fans and make money together. I hope that when I read this stuff with Mark Henry and Lio, it's not going to be something that's gonna bring each other down. [I hope] it's just a confusion of something, and they can keep moving forward.
ADVERTISEMENT
Article continues below this ad
"Mark Henry is always gonna be Mark Henry, and he has a legacy that's going to live forever. Lio Rush is somebody who has a tremendous amount, a tremendous amount of talent across the board," explains Lashley.
We are not sure how things are going to end up. Hopefully, both stars can talk it out with each other and set things to rest.